Treat Skin Conditions With XTRAC
Light therapy is commonly used to treat certain skin conditions, but individuals with psoriasis or vitiligo now have a faster FDA-approved treatment option through Excimer Laser Therapy, also known as XTRAC. XTRAC utilizes a focused beam of laser light to target and treat only areas of the skin affected by psoriasis or vitiligo, leaving surrounding areas of skin unaffected. It is also the only FDA-cleared, clinically proven excimer laser that clears the skin of psoriasis and minimizes or eliminates depigmented patches of skin caused by vitiligo.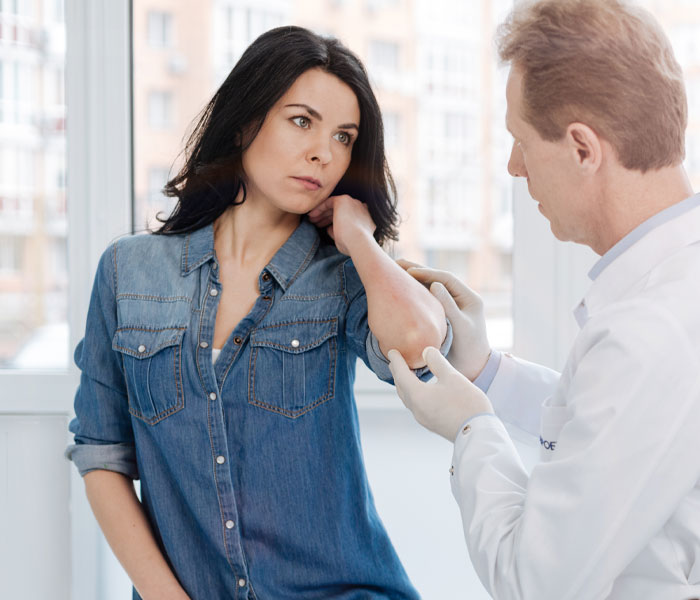 Understanding XTRAC Laser Therapy
Dermatology Associates of Plymouth Meeting is proud to offer XTRAC laser therapy as a minimally invasive and fast-acting treatment option for our patients. XTRAC delivers a highly targeted, therapeutic beam of UVB light through a sophisticated liquid light guide delivery system which works to eliminate active lesions caused by psoriasis and minimize patches of skin that are depigmented by vitiligo. The XTRAC system, when operated by an experienced board-certified dermatologist, focuses only on areas impacted by your skin condition. This allows for precise delivery and more rapid results without affecting healthy skin surrounding the treatment area.
Depending on your needs and realistic skin goals, your dermatologist will develop an individualized treatment plan to treat your symptoms.
XTRAC is a proven treatment technique for psoriasis and vitiligo:
Psoriasis is a chronic, non-contagious skin condition that appears as inflamed, thickened red areas of skin that are also itchy and scaly. Psoriasis can affect skin, nails and joints, and the duration, location, shape and pattern of affected areas will vary from person to person. While there is no cure for psoriasis, treatment can help patients manage symptoms. XTRAC therapy is utilized as a treatment to reduce psoriasis symptoms and improve flare-ups. The treatment works similarly to light therapy, also known as phototherapy, but with faster, improved and longer-lasting results.
Many patients see their psoriasis symptoms reduced in 10-12 simple and painless treatment sessions and appreciate that the treatment offers relief without messy creams or a complex daily skin care regimen. XTRAC treatment is covered by most insurance plans.
Vitiligo is a skin disease that causes skin to lose its color in blotches. This depigmentation occurs when cells that produce melanin die or stop functioning. While the exact cause of vitiligo is unknown to doctors at this time, we know that it is not life-threatening or contagious. Vitiligo may cover many parts of the body, a few areas or only one side depending on the type of vitiligo. While there is no cure, advances in technology have made it highly treatable.
XTRAC laser therapy is utilized to treat vitiligo by applying the expertly-focused laser light beams to targeted patches of skin. These beams lead to gradual repigmentation of the areas of skin affected by vitiligo and repigmentation can be seen in as few as 11 treatments.
Choosing XTRAC Laser Therapy
XTRAC laser therapy is safe for any area of the body, and thanks to rapid exposure times, large areas of skin can be treated significantly faster than conventional phototherapy treatments — in just five to ten minutes. The procedure is also painless and does not require an anesthetic.
Before beginning your treatment with XTRAC laser therapy, your dermatologist will discuss your symptoms and develop a comprehensive treatment plan tailored to your individual health and needs. The number of sessions needed varies patient to patient, and your dermatologist may prescribe topical treatments for enhanced results.
To learn more about excimer Laser Therapy (XTRAC) or to schedule your consultation at Dermatology Associates of Plymouth Meeting.