Struggling with mild to severe acne? AviClear is paving the way for a faster and more effective way to clear your facial skin and keep it that way. Dermatology Associates of Plymouth Meeting is proud to offer this state-of-the-art acne solution for our patients.
AviClear is the first and only FDA-cleared energy-driven device for treating mild, moderate and severe acne on the face. In just three 30-minute sessions, AviClear patients have seen major improvements in their facial skin over the course of just a few months — no prescription needed. This treatment is safe and effective for all types of skin and skin tones.
AviClear is a laser acne treatment developed by CUTERA® that achieved FDA clearance on March 24th, 2022. This laser safely and effectively delivers a 1726 nm beam of energy to the skin to specifically target and suppress the sebaceous gland. This gland secretes the oily substance sebum that combines with dead skin cells to clog pores and cause breakouts. Whereas most other acne treatments go after other acne causes and symptoms, AviClear stops sebum production in its tracks, preventing pimples from forming in the first place. 
To ensure patient comfort, AviClear is combined with a cooling feature (AviCool™) that helps maintain the skin's temperature during treatment.
AviClear can treat all skin tones, no matter the severity of a particular breakout. Not only does this treatment reduce existing acne, but clinical trials have shown that, following a proper course of AviClear treatments, future breakouts are less frequent, less severe and shorter overall.
Who Is a Good Candidate for AviClear?
AviClear is designed to treat mild to severe acne and all types of acne (e.g., cystic, inflammatory and hormonal), so virtually anyone who struggles with acne can benefit from this laser treatment. This sets AviClear apart from many other laser acne treatments that only suit certain skin tones due to their targeting of melanin. AviClear leaves melanin alone and only hones in on sebaceous glands. Age is a non-factor, too, so teens and older adults alike can opt for AviClear.
AviClear Risks and Side Effects
Compared to other acne treatments, such as prescription topicals, oral medications and alternative lasers, AviClear is highly safe, comfortable and painless while posing minimal risks. With AviClear, there are no chemicals or toxins to worry about, and the heat of the laser itself is counteracted by the AviCool system. Patients might notice a mild snapping sensation during the treatment, but that's all. Side effects associated with AviClear include slight redness or a mild short-term acne flareup after the treatment. Aside from these potential side effects, you're in the clear with AviClear.
How Long Does It Take To See Results?
Like most acne laser treatments, multiple sessions are required for patients to see optimal and long-lasting results. AviClear patients engage in three treatments that take just 30 minutes each spaced out at 3-4 week intervals. As such, a complete round of AviClear treatments takes anywhere from 2-3 months. After this period, approximately 80% of AviClear patients saw a significant improvement in their skin's appearance. These results should continue to improve over time.
Before & After AviClear Results
6 Months After Final Treatment Session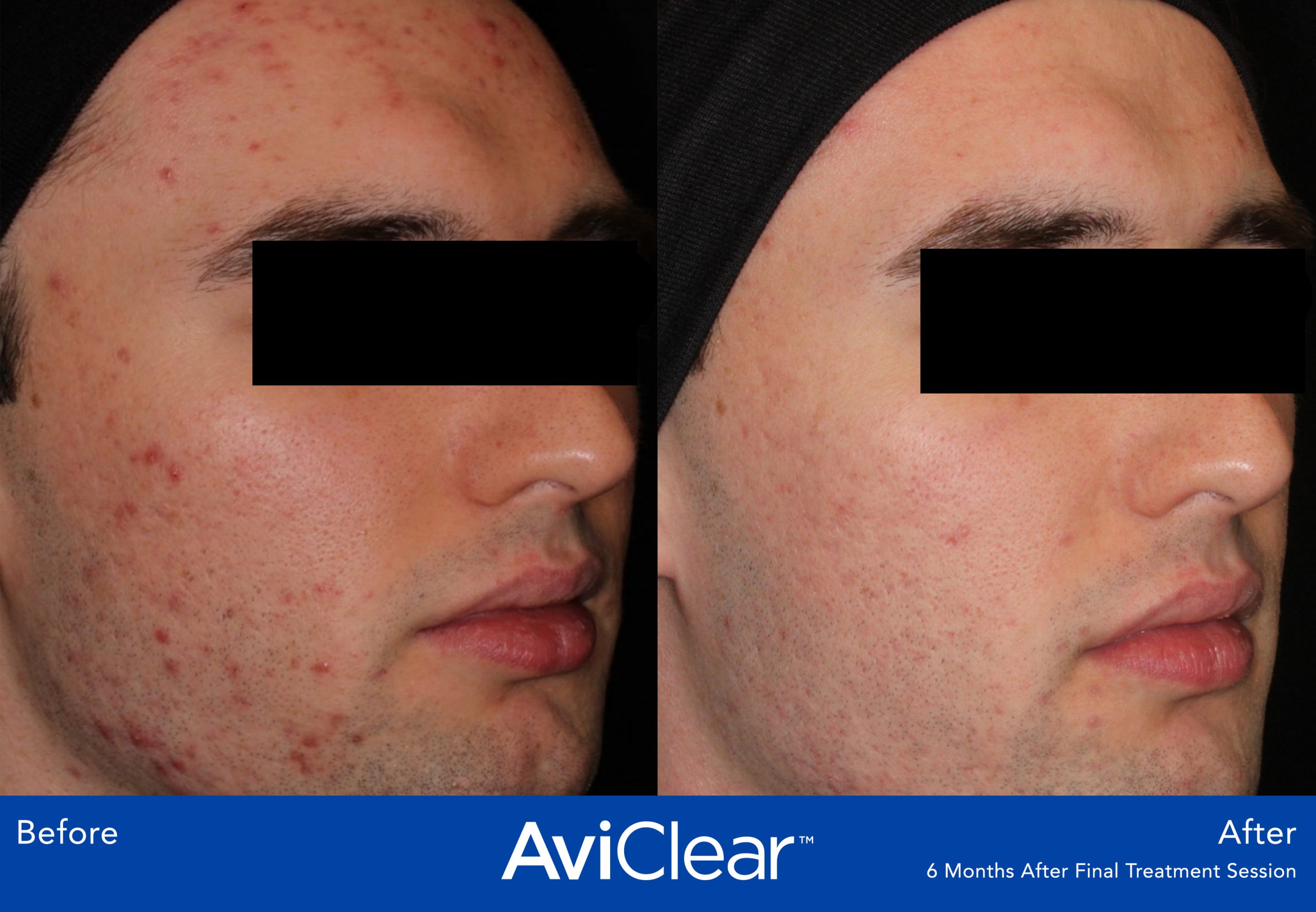 In addition to being short in duration, an AviClear treatment requires virtually zero downtime. This means patients can get on with their lives immediately after their treatment and won't need to make drastic changes to their skin-care routines. Although patients can consider adding this to their normal acne treatment regimen. As previously mentioned, patients might experience some mild swelling or redness shortly after treatment.
Choosing the Right Treatment for You
Don't let acne rule your life. Patients of Dermatology Associates of Plymouth Meeting have access to one of the most diverse laser inventories in our area of the country. Our board-certified dermatologists can recommend an array of acne solutions that will be fully personalized to your unique goals, lifestyle and budget requirements. Rather than being unhappy with your skin, schedule an appointment where you can learn how to achieve the skin of your dreams.
Call us at 610-947-4322 to begin your journey toward getting the healthy, beautiful skin you deserve.