Personalized Treatments to Remove Facial Lines and Signs of Age
Aging is inevitable, but at Dermatology Associates of Plymouth Meeting, we believe it can be done beautifully. When signs of aging are naturally appearing on your face and skin, there are a variety of treatments you can turn to soften or reverse them. The most common signs of aging we treat are fine lines, sagging skin, brown age spots or shallowness around the face and neck. No matter the skin issue you face, your cosmetic team can work with your personal goals to eliminate signs of aging and help you achieve a more youthful, refreshed appearance.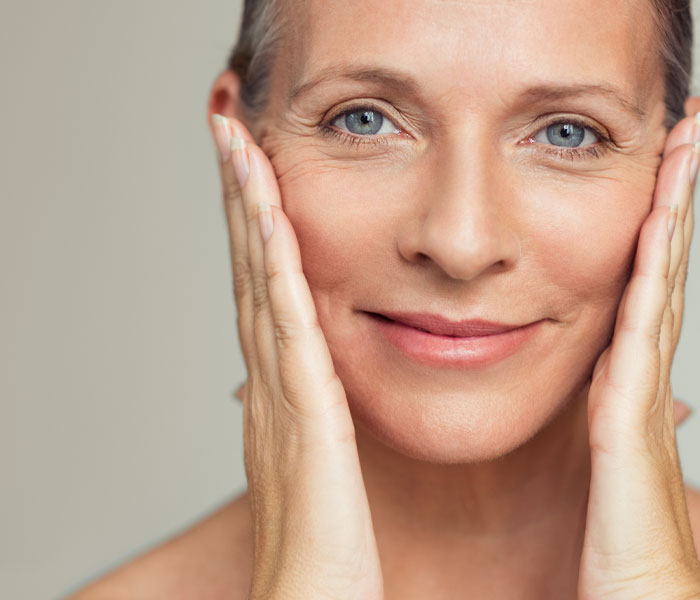 Understanding the Different Signs of Aging
Everyone's body ages differently, and it is important to understand the different signs of aging in order to best treat them. For most individuals, the natural signs of aging are more than just fine lines and wrinkles; they can appear as skin discoloration, lack of skin elasticity or shallowness around the face and neck. As we age, the outer layer of our skin (the epidermis) thins, which can cause the skin to appear thinner and sallow. The number of pigment-containing cells, called melanocytes, also decreases. This can result in larger pigmented spots such as age spots in areas that are frequently exposed to the sun. Skin may also become dry or itchy with age.
At Dermatology Associates of Plymouth Meeting, our personalized treatment plans are developed to include the best care possible in order to return a youthful, glowing appearance to your skin. Everyone ages differently, so there is no one-size-fits-all approach to improving your appearance. Your treatment plan will vary depending on your unique issues with aging skin, which most commonly include:
Even when we take important steps toward preventing wrinkles, we all reach an age when wrinkles appear. This can be the result of environmental elements, such as ultraviolet light exposure from the sun, or from gravity. Habits such as smoking can also lead to wrinkles. At Dermatology Associates of Plymouth Meeting, however, treatments can significantly reduce wrinkles, and in some cases, eliminate them.
Age spots, which are also referred to as liver spots, are flat or raised discolored spots that appear to be darker than the surrounding skin. These spots are often caused by years of sun exposure and can appear on the face, hands, arms, back and feet. It is important to have them examined by a board-certified dermatologist to ensure they are not malignant. While benign age spots are harmless, they can make you appear older than you feel. If you would like to remove them and revitalize your skin, your dermatologist can determine the right treatment to meet your goals.
Skin tags are small, flesh-colored growths of skin that protrude from your skin's natural surface. While they can appear at any age, they become more common as individuals age. Skin tags typically appear on the eyelids, neck and in body folds such as the armpit, chest or groin. Skin tags are harmless but can become irritated, especially when in areas that experience friction from fabric or other skin. Many people choose to remove skin tags because they become annoying or irritated, and they can easily be removed by freezing or cutting them off.
As we age, the fat that once naturally distributed itself evenly throughout our face can clump up and become displaced. Instead of balancing between our forehead, temples, cheeks, eyes and mouth, it can shift downward, which results in a sagging appearance. This shift in fat pockets has the added effect of pulling on skin that was once smooth and tight, which leads to common occurrences such as under-eye bags or loose skin around the chin and neck.
In order to achieve the best results, it is important to understand how and why skin ages. At Dermatology Associates of Plymouth Meeting, our board-certified dermatologists have many collective decades of experience and maintain a practice with the latest advanced treatments. Some of the anti-aging treatments we offer include:
Personalized Skin Care Products
Our office carries a full suite of products to help reverse signs of aging and protect your skin against further environmental damage. Your cosmetic team will assess your skin and recommend products personalized to meet your needs that may include topical serums, sunscreens, retinoids or other products containing powerful antioxidants.
A hybrid fractional laser that treats skin laxity, wrinkles, hyperpigmentation and more. This treatment tightens and tones skin while treating complexion issues.
Radiofrequency Microneedling
This treatment uses ultrafine needles to quickly penetrate the skin and delivers radiofrequency (heat) energy to deeper levels of the skin, producing immediate results as well as results that appear over time as deeper levels of skin regenerate and rise to the surface. It is ideal for patients who are looking to improve skin texture and tone.
A special form of CO2 laser treatment ideal for patients looking for similar dramatic results delivered by CO2 lasers without the significant downtime. It targets only the most superficial layer of skin to remove damaged skin and reveal younger, healthier-looking skin.
BBL technology uses the world's most powerful intense pulsed light to combat sun damage, wrinkles and other signs of aging.
A non-surgical solution for sagging skin, which reduces wrinkling and tightens skin through radio-frequency and controlled heat.
A superficial chemical peel exfoliates the skin and accelerates the removal of dead skin, thereby stimulating the process of natural skin renewal.
Cosmetic injectables can improve crow's feet, drooping eyebrows, forehead lines, smokers lines, bunny lines, neck bands and other creases or wrinkles. Fillers (such as Juvederm) are often used together with neuromodulators (such as Botox) to achieve a natural, more lifted appearance.
Combination Treatments for Your Best Skin
These treatments, along with the many others we offer at Dermatology Associates of Plymouth Meeting, can often be combined as part of the same treatment plan to achieve results faster and more effectively. This plan will be developed at your one-on-one consultation with one of our experienced board-certified dermatologists, during which you can discuss your goals and any concerns or skin conditions you experience. From there, your dermatologist will propose a personalized treatment plan including one or more of our available state-of-the-art treatments to help revitalize your skin and help you look as young as you feel.
Schedule your appointment at Dermatology Associates of Plymouth Meeting, P.C. for more information on how to treat your signs of aging most effectively. We are eager to develop a customized plan to help you appear to age in reverse.