Harness the Sun's Natural Healing Capabilities with Narrowband UVB Phototherapy Treatment
As humans, our relationship with the sun has risks and rewards. Without enough exposure to the sun, we miss out on essential nutrients like vitamin D and other healing benefits. With too much sunlight exposure, our skin will become damaged and burned. At Dermatology Associates of Plymouth Meeting, we are proud to offer a proven way for our patients to receive the healing benefits of sunlight with less risk of damaged skin—narrowband UVB phototherapy. This phototherapy treatment uses a specific wavelength of ultraviolet (U.V.) radiation to safely deliver the most healing components of natural sunlight directly to the areas of skin where you need it most.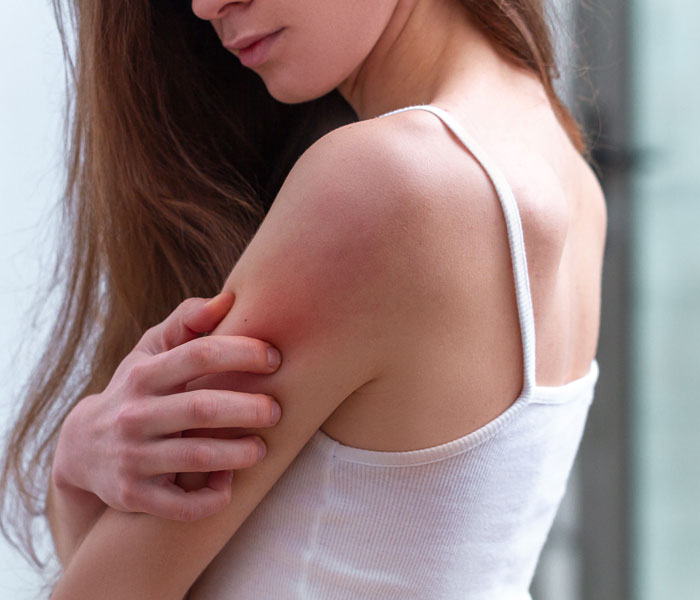 Phototherapy Treatment for a Variety of Skin Diseases
Narrowband UVB phototherapy is a worthwhile treatment for a variety of skin diseases including psoriasis, eczema, atopic dermatitis, pruritus, vitiligo and mycosis fungoides. When carefully controlled, it is an effective tool for treating these significant skin diseases and is ideal for patients with moderate cases covering more than twenty percent of their body. Narrowband UVB phototherapy treatments work by shutting down the overactive immune cells of the skin that are causing the skin disease. Hospitals and clinics have used this type of phototherapy treatments as standard therapy for numerous skin diseases since its development in the 1920s at the Mayo Clinic.
What to Expect from Narrowband UVB Phototherapy Treatments
Patients receiving narrowband UVB phototherapy treatments are still at risk of overexposure resulting in sunburn, which is why it is essential to receive this type of therapy under the care of a board-certified dermatologist. At Dermatology Associates of Plymouth Meeting, our dermatologists are highly trained and experienced in delivering this type of therapy to patients safely and effectively.
For some patients with dry, flaky skin, our nurses will likely apply a moisturizer, which decreases the reflection of light by evening the texture of the skin prior to treatment.
Typically, we recommend a treatment regimen beginning with short exposures to the narrowband UVB rays a few times per week. Gradually, we will increase the exposure time until we achieve optimal results. In more severe cases, we will advise a weekly maintenance treatment on an ongoing basis to keep flare-ups at bay, especially in psoriasis patients.
Phototherapy treatments are painless and patients are typically able to return to their normal routine after treatments. Targeted skin may become slightly pink after the procedure, which could result in mild discomfort, and you may experience a heightened sensitivity to sunlight. It is important to wear adequate sunscreen of at least SPF15 after treatment. For patients experiencing skin discomfort, we recommend the frequent application of emollients and in some cases, topical steroids. After five to ten treatments, most patients see an improvement in their skin disease with optimal results being achieved after 20 to 30 treatments.
A Multimodal Approach to Treating Skin Diseases
As a patient of Dermatology Associates of Plymouth Meeting, you will be paired with a board-certified dermatologist who will conduct a thorough review of your skin issues and goals. Next, your dermatologist will work with you to develop a customized plan to achieve your healthiest skin possible. Narrowband UVB phototherapy treatments are often combined with other skin disease treatments to expedite your results. We always consider your lifestyle when developing treatment plans and strive to ensure your treatments will not interfere with your everyday routine. This individualized approach to caring for our patients has made our practice a top choice for people living with skin diseases.
Schedule your appointment at Dermatology Associates of Plymouth Meeting for more information on how narrowband UVB phototherapy can improve your skin disease. We are eager to develop a customized plan to help you achieve healthier, more comfortable skin.