Discover Treatments to Tighten Loose Skin
As we age, our skin naturally loses its elasticity. As a result, there comes a point in the aging process when skin appears to sag or droop. While many people assume that their skin health is unrepairable at this point, there are actually several treatments we offer that can tighten loose skin. You deserve to look and feel your best during every phase of life, which is why we offer a variety of treatments that are ideal for slowing and softening the effects of aging.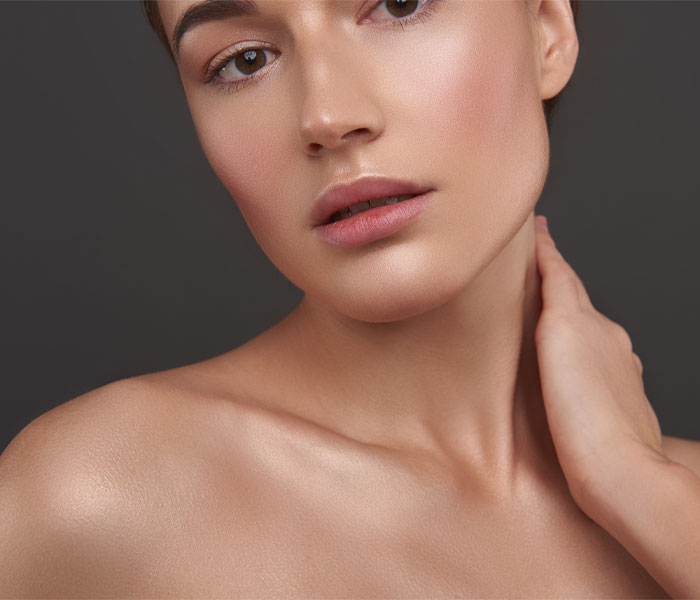 The most common reason for loose, sagging skin is aging. Weight loss can also lead to this skin issue. When skin is filled with collagen, it is firm enough to snap back into place easily. As collagen production slows with aging, skin loses this ability and begins to sag. Our board-certified dermatologists routinely treat sagging skin of the eyelids, jowls, chin and neck area. Treatments for sagging skin work by restoring two important proteins manufactured in the dermis: elastin and collagen. These elements provide the skin with the ability to bounce back when stretched and help the skin maintain its structure and firmness.
Depending on your unique situation, your cosmetic team at Dermatology Associates of Plymouth Meeting may recommend a combination of any of the following treatments to tighten loose skin:
Fractionated Laser Treatments
At Dermatology Associates of Plymouth Meeting, our patients enjoy the benefit of our diverse suite of laser skin resurfacing technologies which allows us to best treat a variety of skin conditions. For patients struggling with loose, sagging skin, we typically recommend fractionated laser treatments, such as the CoolPeel. The CoolPeel delivers high levels of energy in extremely short pulses to the skin to trigger your body's wound healing response which sends new collagen growth to the skin's surface. Another option for loose skin is the HALO™ Pro, which is actually a hybrid fractional laser. It combines non-ablative and ablative wavelengths to simultaneously tighten and tone skin while treating surface complexion issues. Depending on your unique skin type and goals, your cosmetic team will recommend the best type of fractionated laser treatment for you.
This is one of the newest innovations in minimally invasive skin tightening and contouring of the face, neck and body. Through ultrafine needles and radiofrequency (heat) energy, this treatment reaches deeper levels of skin and encourages collagen production over the next several months. PRP Therapy is often used in conjunction with microneedling to further encourage collagen production and enhance faster-appearing results. The production of collagen and elastin triggered by these treatments will continue to accelerate over the following six months.
SkinTyte delivers heat below the skin's surface causing increased tissue tightening and reduced skin laxity. Ideal for patients with loose, sagging skin, the infrared light delivered by SkinTyte initiates the body's natural healing process, which leads to the appearance of increased skin firmness. SkinTyte treatments are highly customizable and can be directed anywhere on the body.
EndyMed RFD is a non-surgical solution to reduce sagging skin and wrinkling by tightening the skin through radiofrequency. These treatments work by delivering heat through radiofrequency in a controlled manner to deep layers of the skin. This induces self-repair mechanisms of the skin to stimulate the production of collagen and elastin.
For immediate, dramatic results, many patients with loose, sagging skin receive facial injectables such as fillers and neuromodulators to achieve the appearance of tighter, more contoured skin. Fillers, such as Juvederm® and Restylane®, are used to add subtle volume to areas of the face that are sagging. They can also be used to add natural-looking fullness to the lips. Neuromodulators, such as BOTOX® and Dysport®, are used to smooth away wrinkles and creases by relaxing the facial muscles that cause them.
If you are ready to address your loose, sagging skin, contact Dermatology Associates of Plymouth Meeting, P.C. for a customized plan today. We will work together with you to develop a personalized strategy to help you achieve smoother, younger-looking skin.