Skin Cancer Removal Through Excision
Skin cancer is the most common type of cancer in the United States. More people are diagnosed with skin cancer each year in the U.S. than all other cancers combined. With such high risks, you or a loved one may develop a skin cancer that will need removal through excision. Excision is a surgical technique to remove skin cancer that can be done in the comfort of our office using a local anesthetic (numbing medicine).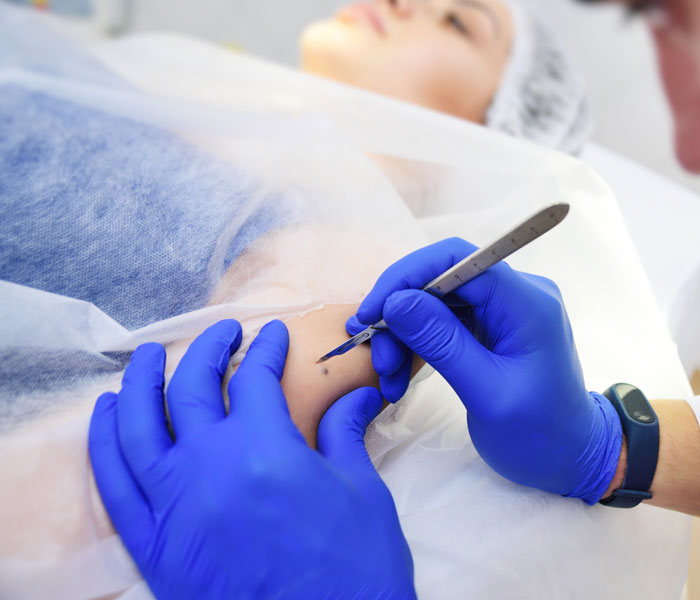 How Excision Works to Remove Skin Cancer
Excision removes both the cancerous tissues and a small margin of healthy tissues surrounding those that are cancerous. The skin is first numbed with an anesthetic and then your dermatologist will cut out the necessary tissues with a surgical knife. The remaining skin is then carefully stitched back together. If the incision is large, your dermatologist may perform a skin graft by transplanting a piece of healthy skin to the affected area.
If your dermatologist is excising a melanoma, more tissue—usually skin and fat—will be removed from under the melanoma. This is to reduce the risk of the melanoma spreading to nearby lymph nodes.
What to Expect After Having Excisional Surgery
Thanks to local anesthetic, excisional surgery itself should not be overly uncomfortable. Excisions small enough to be closed with stitches should heal without problems. If your excision required a skin graft, you will likely wear a dressing for one to two weeks and protect the graft from trauma or any exercise that might stretch or injure the graft. In either case, soreness around the excision site is normal, and your dermatologist may recommend an over-the-counter pain reliever to help manage pain.
Excisional surgery could leave a scar. If so, scar improvement is possible through laser therapy, and Dermatology Associates of Plymouth Meeting is home to many of the most cutting-edge lasers in our region. Scar reversal is among our top specialties and we can develop a customized plan to fade any scars left behind from excisional surgery. Many of our patients achieve optimal results in as few as one or two treatments with limited downtime.
Alternatives to Excisions
In some cases, your dermatologist may recommend Mohs micrographic surgery instead of an excision. Mohs is different from excision in that the skin cancer is removed one layer at a time until entirely removed. Each layer is checked under a microscope during surgery, enabling our Mohs surgeon to clear away the cancerous cells and spare as much healthy skin as possible.
As subspecialists in dermatological surgery, you're in the right place for skin cancer treatment at Dermatology Associates of Plymouth Meeting. Our fellowship-trained Mohs surgeon has performed more than 25,000 Mohs cases. Ideal candidates for Mohs procedures are those who have larger, recurring or difficult-to-treat skin cancers. Mohs surgery is one of the most advanced methods for skin cancer removal and offers the highest cure rate available.
Schedule your appointment at Dermatology Associates of Plymouth Meeting to determine the best plan of action to remove your skin cancer in the safest, most comfortable way possible. Our board-certified dermatologists are experts in identifying, diagnosing and treating skin cancer and will work together with you to develop a treatment plan based on your unique timeline and goals.