Reverse Sun Damage Safely and Effectively
It is nearly impossible to avoid damaging your skin from the sun, even if you diligently apply sunscreen every day. An estimated 90 percent of skin aging is caused by the sun, and about 90 percent of nonmelanoma skin cancers are associated with exposure to ultraviolet (UV) radiation from the sun. Sun damaged skin usually has both wrinkles and discoloration, which most commonly appears in the form of brown or red spots. Fortunately, Plymouth Meeting Dermatology Associates is home to many of the most advanced, innovative technologies available to reverse sun damage safely and effectively.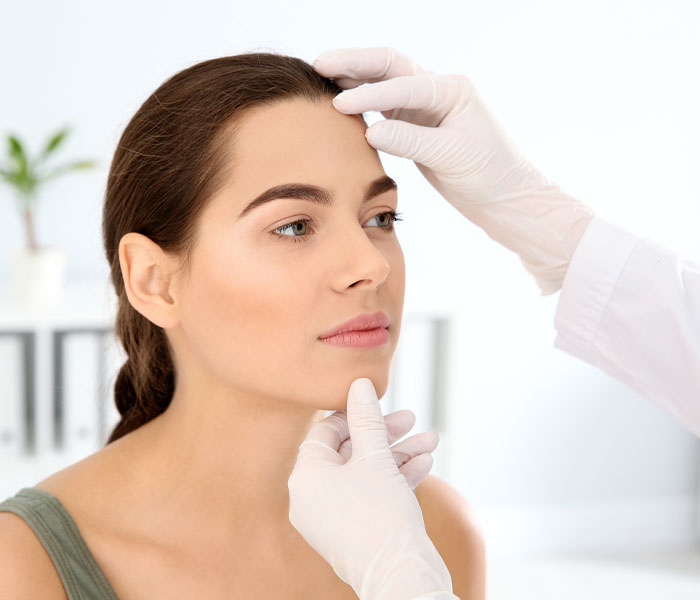 Tailoring Treatments to Your Needs
At Plymouth Meeting Dermatology Associates, we embrace the fact that there is no one-size-fits-all treatment for sun damage. Out of concern for every patient's unique skin goals, we have assembled a wide range of sun damage treatment tools to address every adverse side effect of sun overexposure and complement any skincare plan. Perhaps you work in a job where you are unable to take time off to recover from a procedure, or it is important that you be able to wear makeup every day—no problem. Or, let's say that you have an important event coming up soon and you want to look your best for it in the least amount of time—that is no problem either. We can custom-fit a combination of treatments to help you achieve the skin of your dreams while never skipping a beat from your usual routine.
Laser Resurfacing Treatments for Sun Damage
Patients who want to achieve their desired results in the shortest amount of time are in luck. Our practice is home to the most innovative laser skin resurfacing technologies in our region. Laser skin resurfacing is an ideal way to reverse sun damage because it addresses both discoloration and wrinkles. Our inventory of cutting-edge lasers produce results that require significantly less downtime compared to laser treatments of the past.
To best address discoloration that appears from sun damage, your cosmetic team will likely recommend a combination of therapies based on your specific skin issues. For example, if your skin shows redness from dilated blood vessels, the DenaVe laser is the most superior treatment option. It uses the traditional gold standard wavelength for vascular lesions to specifically target dilated blood vessels and shrink them. The result is calmer looking, more even-toned skin.
Alternatively, if your skin has developed brown spots as a result of sun damage, your cosmetic team will likely recommend BBL™/BroadBand Light Therapy, which is the next generation of Intense Pulsed Light (IPL) therapy. It works by directing short blasts of high-intensity light into the exact areas of the skin where sun damage causes discoloration. Another treatment option for brown spots is with our cutting-edge Discovery Pico laser, which uses fractional picosecond power to specifically target sun damaged skin pigments while leaving healthy skin intact. This results in customizable downtime that can be minimal.
One of our most popular lasers for wrinkles and discoloration is HALO™, a Hybrid Fractional Laser that treats sun damage by inducing a wound healing response from your body, resulting in smoother, more even-toned skin. It delivers two different wavelengths of energy to the same microscopic treatment zone, giving enhanced results with little to no downtime. HALO™ Pro, a slightly more powerful laser, offers enhanced results with more downtime that is still customizable based on your desired outcome. As the only hybrid fractional laser of its kind, this laser is extremely tunable to best treat fine lines, wrinkles, brown spots and more.
Some patients may be better suited for our Fractionated CO2 Laser or full-field resurfacing treatments for sun damage, depending on the size of the treatment area. As a result of any laser treatment, old damaged skin is replaced with a fresh, smooth layer over time. Our practice has assembled this variety of treatments in an effort to be best prepared to treat any skin issue and offer a combination of treatments to achieve optimal results. Our board-certified cosmetic dermatologists are resurfacing experts who are published authors and invited speakers on the topic; your skin is in the best hands possible with us.
Combining Treatments for Optimal Results and Maintenance
Patients typically see the best results when combining multiple sun damage treatments as part of a comprehensive skincare plan. Since sun damage takes many different forms, it is best treated when laser treatments are combined with other light therapies or treatments. For example, our cosmetic team frequently recommends combining laser therapy with one of the latest innovations in microneedling treatments—Virtue RF Microneedling. This works by stimulating your body's production of collagen to provide immediate results that improve over time.
RF Microneedling is different from standard microneedling treatments in that it delivers radiofrequency (heat) energy to deeper levels of the skin to trigger a better healing response. It effectively treats scars on any area of the face, including those near the eyes and lips. For patients looking for the least invasive way to treat sun damage while still enjoying impressive results, this may be the perfect option.
Since it is impossible to completely avoid the sun, your cosmetic team will work with you to develop a plan to maintain your results and prevent recurring sun damage. A popular maintenance treatment for sun damaged skin is the Forever Young BBL™, which keeps skin glowing and looking youthful. To protect your skin from the sun, we carry many different types of professional-grade sunscreens in our office, including those made by Elta MD, Avene and Glytone.
Schedule your appointment at Dermatology Associates of Plymouth Meeting to learn more about how to reverse sun damage based on your unique skin type and goals. We are eager to use our cutting-edge skin resurfacing technologies to help you achieve smoother, younger looking skin.