Rosacea Treatment: Don't Live With the Effects of Rosacea
Rosacea is a common skin condition causing redness and visible blood vessels in the face. It can occur in anyone and varies in severity. Rosacea comes and goes, flaring up for weeks or months, then diminishing for a while. Symptoms of rosacea typically include facial redness, visible blood vessels on the nose and cheeks, swollen red bumps that can resemble acne and eye irritation. While the cause of rosacea is unknown, there are many innovative treatments available to patients of Dermatology Associates of Plymouth Meeting that can lead to calmer, more comfortable skin.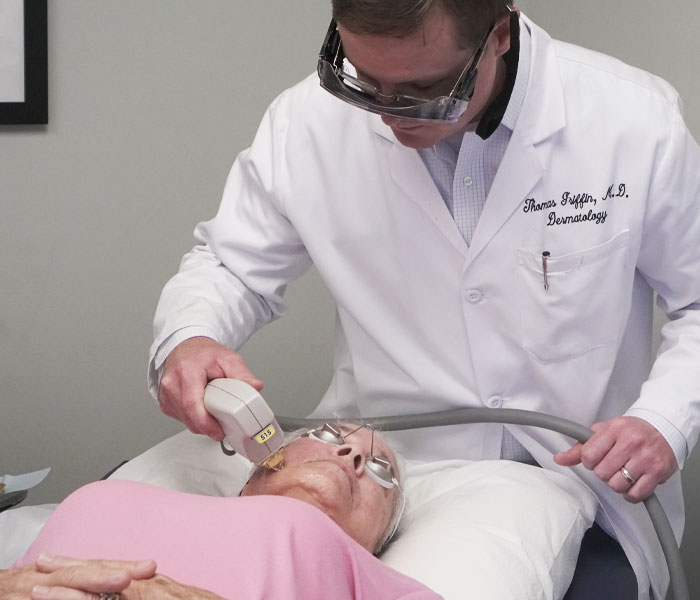 Traditional Treatments for Rosacea
Your dermatologist may prescribe traditional therapies for rosacea, like topicals or oral antibiotics, to be used in combination with other modern treatments like laser therapy or hydrafacials. For example, Soolantra® cream is a popular once-daily topical treatment that works to reduce rosacea bumps and blemishes. Metronidazole is also commonly prescribed as a topical antibiotic to help control rosacea. We also offer a specially formulated prescription through our in house pharmacy which combines these traditional medications. These prescriptions, especially when used in combination with other therapies in our office, can effectively keep rosacea symptoms at bay for most patients.
DenaVe is a superior laser for rosacea because it is ideal for reducing the red components of the skin. It works by using a 585 nanometer wavelength (the traditional gold standard for treating vascular lesions like those associated with rosacea) to shrink blood vessels. DenaVe's advantage over traditional lasers is that it delivers laser energy in multiple microscopic pulses rather than one large continuous wavelength. This different delivery method results in significantly less pain and downtime for rosacea patients.
Depending on your skin type and specific symptoms of rosacea, this treatment will target your rosacea where it forms to prevent redness from occurring.
This advanced therapy allows our dermatologists to create a completely customized treatment plan for each patient's unique skin issues and goals.
The HydraFacial MD® treats rosacea by gently exfoliating the uppermost layer of skin and extracting impurities and dead skin cells through a suction method. Then, it infuses a calming serum packed with antioxidants, peptides and hyaluronic acid.
Derma V from Lutronic is today's most advanced laser skin resurfacing treatment. Featuring 1064 and 532 wavelengths, it is the only laser treatment that can treat brown and red skin spots. The versatility of this laser treatment and our ability to customize the settings to meet your needs will give you optimal results from your laser treatment for rosacea and redness.
Your dermatologist at Dermatology Associates of Plymouth Meeting will make product recommendations based on your skin type and needs. For our patients with rosacea, we typically suggest a product that provides daily antioxidant protection to defend against free radicals, which can cause further irritation. These types of products include Vitamin C and other antioxidant ingredients that will enhance vitality in the skin and reduce the appearance of skin redness.
More on Laser Therapy for Rosacea
Many of our patients are surprised to find out that there are effective laser therapies for rosacea. While it's easy to think that rosacea should only be treated by applying soothing ingredients to the skin like aloe vera or lavender, these types of therapies merely mask the effects of the condition. In some cases, we will suggest a treatment regimen that combines traditional medical rosacea treatments and laser therapy.
As home to some of the most cutting-edge lasers on the market, Dermatology Associates of Plymouth Meeting has exciting news for people with rosacea who have previously tried laser therapy and experienced an undesirable outcome. Your rosacea will likely respond much better to our DenaVe laser, which offers a significantly reduced chance of bruising and swelling compared to older, more painful laser treatments for rosacea.
Schedule a Consultation Today
Schedule your appointment at Dermatology Associates of Plymouth Meeting for more information on rosacea treatments. We are eager to develop a customized plan to help you achieve calmer, more comfortable and radiant skin.