Improve Skin's Appearance with the Best Treatment for Acne Scars
Acne is the most common skin condition in the United States, and it can affect both teenagers and adults. While acne can be easily treated in most cases, the marks and discoloration it leaves behind can be more difficult to remedy. Acne scars can develop on the face, back, neck, shoulders and chest after acne has cleared up, leaving behind discoloration, raised scarring, indentations and other conditions. At Dermatology Associates of Plymouth Meeting, we understand how detrimental acne scars can be to your quality of life and will work hard to create an effective, personalized treatment plan to help you achieve the skin of your dreams.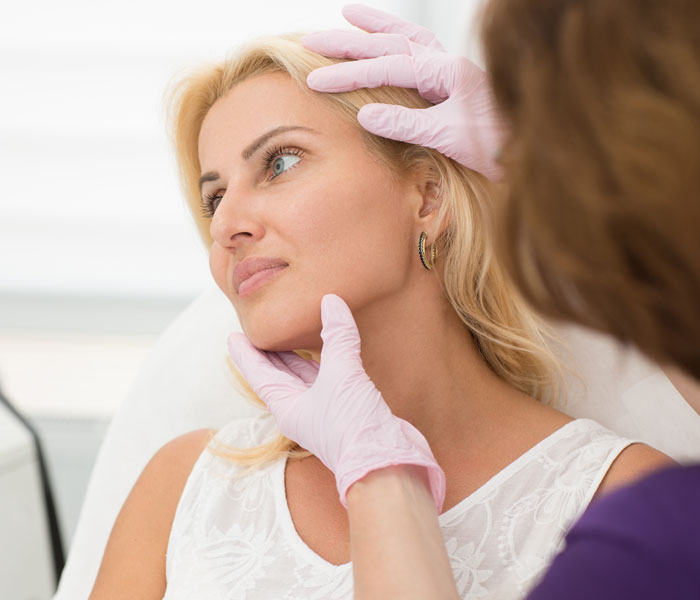 Acne scar treatment is not a one-size-fits all approach, and it is important to understand the types of scars in order to determine the most effective treatment. No matter the type of acne scarring you have, Dermatology Associates of Plymouth Meeting has a variety of acne scar treatments available to eliminate scar visibility and renew your skin. Your board-certified cosmetic dermatologist will individualize your treatment plan to best meet your skin's unique needs.
Every scar is different, and the type of acne scar is important in determining the best treatment for it. Acne scars can occur in the following varieties:
Keloids: Smooth, hard growths formed by excess scar tissue.
Icepick scars: Small, sharp indentations that are wider at the skin's surface and become more narrow as they reach the skin. These scars are common on the face, forehead and upper cheek.
Rolling scars: Sloping scars that give skin an uneven, wavy appearance. These scars are common on thicker skin such as the lower cheek and jaw.
Boxcar scars: Indents on the skin that are a few millimeters wide with sharp edges that penetrate into the skin.
Hyperpigmentation: Discoloration or darkened skin tone that appears after acne heals. These dark patches can remain behind after acne has healed.
Best Available Treatments for Acne Scars
At Dermatology Associates of Plymouth Meeting, our board-certified dermatologists prioritize hands-on patient care and make sure to individualize treatments dependent on your needs. We offer a variety of treatment options, which can be used in combination to achieve ideal results for your skin.
Full Field Ablative Laser Resurfacing
This is the most aggressive laser resurfacing treatment we offer for acne scars that delivers dramatic results, especially on boxcar acne scars and other wrinkling skin issues. During this treatment, a laser delivers an intense wavelength of light to the skin which removes the outer layers of damaged skin. This treatment results in boosted collagen formation and an improvement in skin texture. As skin heals, new skin that is both smoother and tighter forms.
Fractional Ablative Laser Resurfacing
Regarded as the traditional "gold standard" for acne scar treatment, fractional ablative laser resurfacing is best for reducing boxcar acne scars. We are proud to offer two fractional ablative lasers for the benefit of our patients: the Profractional Erbium and CO2 lasers. One laser may be better suited over the other based on your individual goals and the severity of your acne scarring. Fractional ablative laser resurfacing treatments can be used aggressively for more dramatic results. Downtime is typically moderate to lengthy depending on how aggressively the laser is used.
Hybrid Fractional Ablative Laser Resurfacing
HALO™ Pro is a hybrid fractional laser which combines both ablative and non-ablative wavelengths and is among the most innovative lasers on the market today. It offers deep dermal rejuvenation—perfect for moderate boxcar and ice pick acne scars—without the long recovery associated with more aggressive lasers. HALO™ Pro is also ideal for reducing general sun damage and signs of aging skin. This laser is highly tunable, making the amount of required downtime after treatment minimal.
Picosecond Fractional Laser Resurfacing
Picosecond fractional laser resurfacing treatments are more deeply penetrating than HALO™ or fractional ablative tools. They work by triggering the production of new skin cells that will replace acne scar tissues without removing layers of skin. Since the picosecond laser does not remove parts of the skin, results appear faster and the healing process is not as painful. This type of laser technology is ideal for treating rolling and boxcar acne scars and is safe for darker skin types. For more severe acne scarring, our picosecond laser can be used more aggressively which would result in 5-7 days of healing time or it can be used relatively non-aggressively resulting in 2-3 days of healing time.
Radiofrequency Microneedling
RF Microneedling is a revolutionary device that combines radiofrequency energy with the benefits of microneedling. The device's ultrafine needles penetrate deeply into the skin to improve the depth of acne scarring while the radiofrequency tightens the skin and helps to deeply renew collagen growth. This treatment, which is safe for all skin types, typically requires no downtime and most patients experience minimal discomfort.
Microdermabrasion is an effective treatment for reducing mild acne scars and revealing smoother, healthier looking skin by stimulating skin cell and collagen production. Each treatment takes between 30-60 minutes, and the number of treatments will depend on the severity of your acne scars. There is no downtime following treatments, and your dermatologist will maximize your results through personalized, medical-grade skin care regimen.
Platelet Rich Plasma (PRP) Therapy
Platelet-rich-plasma, or PRP, therapy is a non-surgical treatment to help reduce acne scars that uses key components of your own blood to promote skin rejuvenation. The procedure involves a simple blood draw, and then your platelets and growth factors will be isolated and topically applied to enhance microneedling or HALO laser treatments. By utilizing concentrated platelets, the treatment jump-starts your body's natural self-healing process which promotes collagen and elastin production. Treatments produce long-lasting results with minimal side effects or downtime.
BroadBand Light Therapy (BBL™)
BBL™ is a virtually painless treatment that uses short blasts of high-intensity light to reduce acne scars and produce even skin color. It works to reduce acne scars by targeting photothermal energy on affected areas, which eliminates the fine vessels that cause redness and reduces the unnecessary melanin that produces excess pigment. BBL™ treatments are typically conducted in a series and often combined with other acne scar treatments. Patients usually experience minimal discomfort thanks to advanced cooling features of the machine.
Dermal fillers are carefully injected into the skin to reduce the appearance of indentations in the skin, such as pockmarks or certain types of acne scarring. Through the injections, a smoother, clearer skin appearance can be achieved. Dermal fillers can be used in conjunction with other injectables, such as Dysport or Botox, depending on the individual patient's needs.
Choosing the Best Treatment for Acne Scars
Your acne scar treatment will begin with a consultation to gain a baseline for your skin needs and goals, and your dermatologist will customize a care plan including the best treatment for your acne scars. Depending on your skin care needs and the type of scarring present, your dermatologist will recommend the best treatment path for acne scars. Sometimes your care plan will include a combination of acne scar treatments in order to achieve optimal results.
To learn more about available acne scar treatments, schedule your consultation at Dermatology Associates of Plymouth Meeting, serving the Philadelphia metro area, including The Main Line, Chestnut Hill, Blue Bell, Gwynedd and Flourtown, by calling 610.828.0400.