BroadBand Light Therapy—The Next Generation of Intense Pulsed Light (IPL) Therapy
BroadBand Light (BBL™) Therapy can address almost every skin issue you may be facing. Whether you want to improve the appearance of sunspots, dark spots, uneven texture or wrinkles, BBL™ can address it by reducing the appearance of damage and aging.
A subtle skin rejuvenation, BBL™ is a virtually painless treatment that uses short blasts of high-intensity light to produce even skin color, younger, smoother and healthier looking skin. The treatment is conducted in our office and does not require surgery or significant recovery time. BBL™ can be completely customized to fit your specific skin care concerns including aging, sun damage, acne, unwanted hair, vascular lesions, laxity, rosacea and scarring.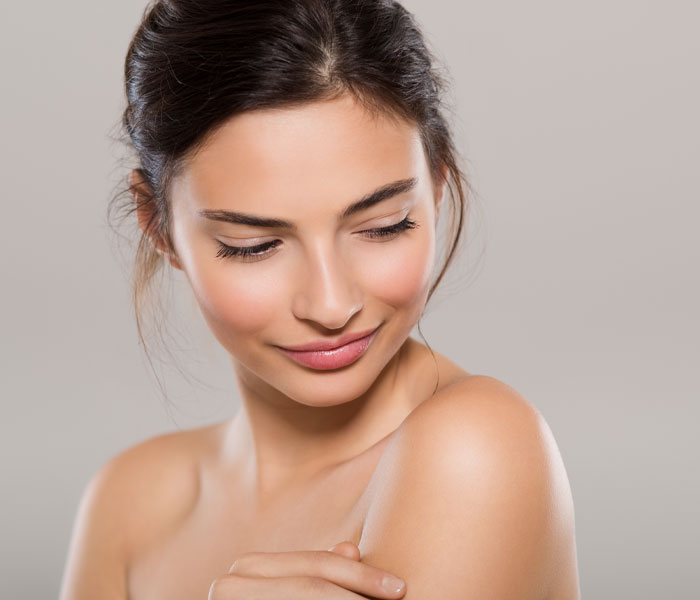 BBL™ works by delivering light energy that gently heats the uppermost layers of skin. The light energy is focused on targeted areas where the heat is absorbed to stimulate skin cell turnover to regenerate the growth of new collagen. This light energy, called photothermal energy, eliminates the fine vessels that cause redness, and it reduces the unnecessary melanin that produces excess pigment. It works by inducing a change in gene expression patterns of skin, causing it to function like younger, healthier skin rather than simply mimicking the appearance of it.
Even though BBL™ works by heating the skin, your skin will not be burned. The machine uses advanced cooling features to allow patients to receive the treatment with minimal discomfort. Although numbing cream is typically unnecessary, it can be used for patients with low pain thresholds. BBL™ therapy is safe, gentle and noninvasive.
Depending on your desired results, BBL™ therapy is typically conducted in an initial series of treatments called the "treatment phase" and maintained with the "maintenance phase" of two to three treatments per year for optimal results. BBL™ alone is an excellent choice for achieving your skin goals, but can also be combined with Halo™ or Pico to achieve even more radiant results.
What can I expect from BBL™?
BBL™ can be completely customized to transform the appearance of your face, chest, back, neck, hands or pretty much any desired location on your skin. Dermatology Associates of Plymouth Meeting is pleased to offer the following customized BBL™ options:
Forever Young BBL™ – Designed to treat common signs of aging, including wrinkles, redness and sun damage. This treatment is also ideal for skin maintenance to keep skin glowing and youthful.
Forever Clear BBL™ – A treatment protocol ideal for patients suffering from acne. The treatment includes blue light which targets the bacteria which contributes to acne followed by infrared light to reduce inflammation and post-inflammatory marks left by current and old acne lesions and lastly SkinTyte™ which heats collagen and reduces acne scarring. ForeverClear BBL™ is a natural treatment which can help avoid the need for oral medications like antibiotics and Accutane.
Forever Bare BBL™ – Delivers lower pulses of light to get rid of unwanted hair while protecting surrounding skin layers.
SkinTyte™ BBL™ – Ideal for patients with loose, sagging skin, this treatment option results in increased tissue tightening by delivering heat below the skin's surface. This treatment can be performed on any area of the body.
BBL HERO® - Allows for a faster delivery of BBL™ treatments on larger surface areas anywhere on the body without sacrificing safety or efficacy.
All of these treatments are fast, effective and conducted with minimal discomfort or downtime. Results last for months and result in smoother, more even skin tones. BBL™ can be combined with other procedures to achieve synergistic effects. After treatment, you can resume your daily activities—you can even apply sunscreen and makeup immediately. You will only be asked to avoid strenuous activities during the first 48-72 hours after treatment and avoid long showers or baths, which could trigger the face's natural response to flush. This is to try to keep skin vessels closed and improve the efficacy of BBL™ therapy. Expect to see pigmented lesions darken over the next two to three days and become raised flecks. These flecks will be exfoliated via the skin's normal turnover cycle and then completely disappear. Non-facial areas such as the chest, hands or back can take a few days longer to shed the pigment.
Schedule your appointment at Dermatology Associates of Plymouth Meeting for more information on how BBL™ can improve your skin. We are eager to develop a customized plan to help you achieve healthier, smoother skin.