Say Goodbye to Stubborn Fat With CoolSculpting®
CoolSculpting® is an amazing solution for patients struggling to lose bothersome pockets of fat that seem resistant to diet and exercise. It is a non-surgical fat-freezing technology that is scientifically proven and FDA-cleared to treat visible fat bulges under the chin and jawline, along the abdomen and flank, as well as fat pockets in the back, underneath the buttocks and in the upper arm. CoolSculpting® is not a weight-loss treatment—rather, it is the top nonsurgical fat reduction treatment used by doctors.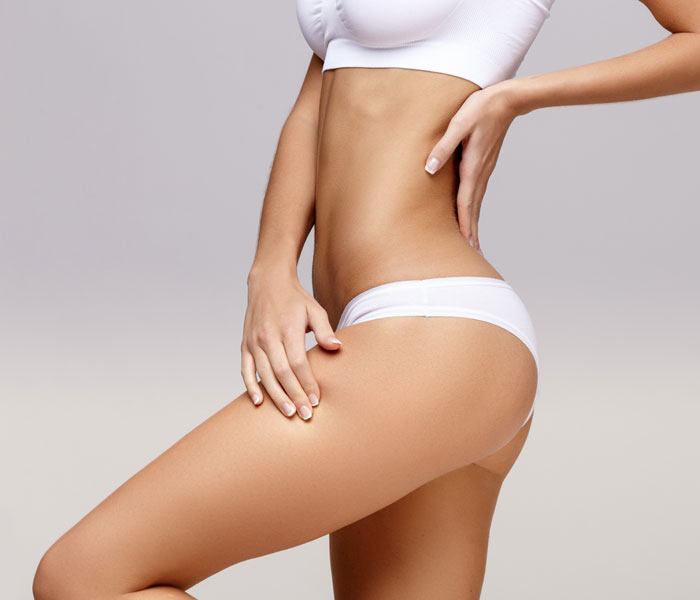 CoolSculpting® is a proven, safe, and effective procedure for fat reduction. Contact us today to schedule your consultation.
How Does CoolSculpting® Work?
The amount of fat cells a person has is determined at a young age. Weight gained and lost over the years is not due to the gain and loss of fat cells, rather it is due to the increase and decrease in the size of those cells. The only way to achieve permanent loss of these fat cells is to either remove them through liposuction or cause their death through noninvasive treatments like CoolSculpting®, which works through a process called cryolipolysis.
Fat cells have been scientifically proven to freeze at certain temperatures. Once fat cells reach the point of freezing, fat cells die and your body naturally eliminates the dead cells in 1-3 months or more, resulting in up to 20%-25% reduction of fat in a treated area per treatment cycle. Retreatment of the same areas can further improve fat reduction. This process is a safe and effective way to reduce excess fat. It is important to understand that CoolSculpting® is not a weight loss treatment—it is best suited for patients who simply want to reduce excess pockets of fat that are resistant to diet and exercise.

What to Expect From CoolSculpting®
CoolSculpting® is an excellent choice for reducing unwanted chin, belly and buttocks fat, underarm flab and love handles. The CoolSculpting® team at Dermatology Associates of Plymouth Meeting will work together with you to develop a customized plan to tone and sculpt your troublesome areas. This plan may include one treatment or several, depending on your unique goals.
What Happens During Your Treatment?
Your CoolSculpting® treatment will begin with the application of a clear gel pad to the treatment area to serve as a barrier between the cooling panel and your skin. Next, the CoolSculpting® applicator will be applied to your treatment area where you will experience a slight sucking sensation.
During the procedure, you may experience sensations of pulling tugging, mild pinching or tingling. These sensations will subside as the area becomes numb, and you will be able to read, watch TV, answer emails or simply relax during your treatment, which usually lasts for at least 35 minutes.
After your treatment and the applicator is detached, a vigorous two-minute massage will be used to increase blood flow to the treated area, which will break up the treated fat cells and enhance the fat reduction.
What Happens After Your Treatment?
Most patients experience little to no downtime after CoolSculpting®. Although typical side effects include temporary redness, swelling, tingling, bruising or skin sensitivity, patients are free to return to normal activities and exercise immediately after treatment. Results will start to appear in as soon as one to three months post-treatment, with final results appearing in six months. Enjoy your sculpted and toned appearance in treated areas and your clothes fitting better, looking better and feeling better on you.
Schedule your appointment at Dermatology Associates of Plymouth Meeting to develop a personalized body sculpting plan that may include CoolSculpting®. Our cosmetic team is eager to help you achieve a more sculpted and toned appearance. Join hundreds of other patients who have seen the benefits of CoolSculpting® by taking advantage of this top nonsurgical fat reduction treatment.