DenaVe Laser Treatments for Vascular Lesions
When you think about laser treatments for your skin, your mind may automatically jump to dramatic laser skin resurfacing procedures where common signs of aging like wrinkles, fine lines and age spots are swept away. Patients of Dermatology Associates of Plymouth Meeting have access to a multitude of innovative laser technologies to treat these types of skin issues—and more. We are proud to offer the new gold standard for vascular laser technology: the DenaVe. This unique laser is effective for treating skin issues that you may not have thought were treatable with laser technology such as rosacea, birthmarks and broken blood vessels.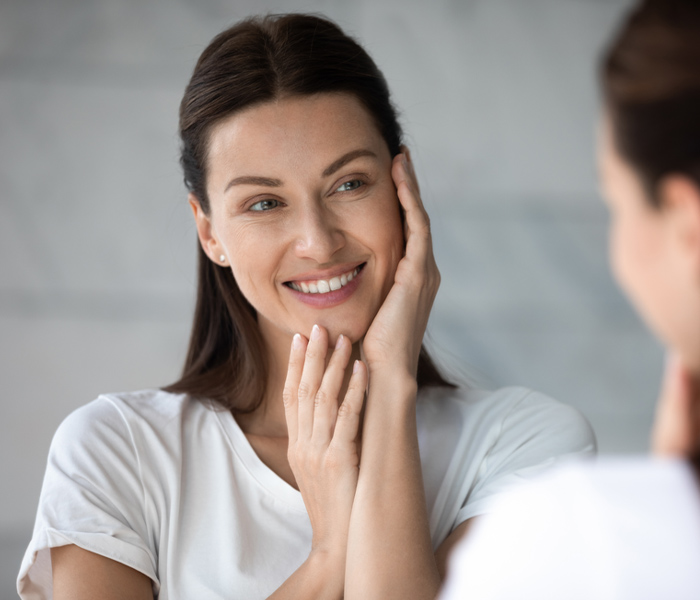 How the DenaVe Laser Works
DenaVe is our laser of choice for rosacea and vascular lesions like birthmarks, port wine stains, cherry angiomas, spider angiomas and broken blood vessels because it reduces the red components of the skin. It works by using a 585 nanometer wavelength (the traditional gold standard for treating vascular lesions like those associated with rosacea and broken blood vessels) to shrink blood vessels. DenaVe's advantage over traditional lasers is that it delivers laser energy in multiple microscopic pulses rather than one large continuous wavelength. This different delivery method results in significantly less pain while minimizing risk of bruising, swelling and downtime for patients.
Outcomes of DenaVe Laser Treatments
The DenaVe laser produces truly amazing results for many of our patients who simply thought they had to live with vascular lesions or rosacea. Considering how frustrating these types of skin issues can be, the DenaVe laser is a worthwhile and effective treatment option. Most patients will achieve significant results after one treatment, but multiple treatments are suggested to achieve the best results. Treatments are normally spaced one to two months apart.
What to Expect During Treatment
DenaVe is a much-improved vascular laser treatment when compared to similar lasers of the past 20 years. Side effects and discomfort are significantly reduced, as are chances of bruising. Treatments are generally well-tolerated since the laser has an integrated chiller to maximize patient comfort and minimize downtime, although most patients do experience mild swelling after treatment. The amount of time it takes for treatment is dependent upon the size of your treatment area, the severity of the skin issue and skin individuality. Most patients usually experience treatment times of around 30 minutes.
Personalized Results from DenaVe Laser Treatments
The DenaVe laser is highly customizable, allowing our board-certified dermatologists the ability to provide truly personalized results based on your unique goals and allowable downtime. It uses customized photothermolysis to produce the perfect wavelength and pulse width for minimal side effects. Since the DenaVe laser is the first compact laser to use the same wavelength as previous dye lasers, but with the addition of pulsed or continuous modes, it allows for a more individual and personalized treatment for each person's skin needs.
Rather than treating a large area, such as your entire face, your dermatologist can treat the exact shape and size of the vessels thanks to EliteScan™ technology in the laser handpiece. This customization benefit also helps to reduce risks of bruising and the amount of downtime experienced after treatment.
Depending on the type of skin issues you are experiencing and your personal skin goals, DenaVe laser treatments can be combined with other treatments for enhanced results. At your consultation, we will thoroughly assess your skin and develop a plan with you for reversing your skin issues based on your unique goals, timeline and budget.
More Options at Dermatology Associates of Plymouth Meeting:
Derma V From Lutronic
At Dermatology Associates of Plymouth Meeting, we believe every client deserves specific treatments to address their skin blemishes. It is important to understand the root cause of any brown or red spots on your skin and to seek customized treatment from a professional willing to use multiple laser resurfacing treatment options to provide you with the best possible results. 
We have recently added Derma V from Lutronic to our practice, which improves our treatment options and allows us to provide each patient with the care they need. Derma V is a laser treatment that offers two wavelengths — the 1064 and 532 wavelengths — allowing it to eliminate brown and red spots. In many cases, we will use Derma V in combination with other laser resurfacing treatment options to address the unique needs of our patients. It is most often used for vascular blemishes, such as rosacea, scarring, port wine stains and more. By adjusting the settings on this versatile laser treatment and combining it with other powerful options, we can give you the incredible results you deserve.
Schedule your appointment at Dermatology Associates of Plymouth Meeting for more information on the benefits of DenaVe or Derma V laser treatments. We are eager to develop a customized plan to help you achieve the kind of skin you never thought could be possible.