Safe and Effective Deep Skin Resurfacing With Contour TRL™
Contour TRL™ by Sciton is a multi-functional laser resurfacing technology used to treat signs of aging, sun damage, deep wrinkles and scars that is adjustable to deliver multiple treatment types. It is routinely used for deeper skin resurfacing, but can also be fine-tuned to deliver a shallow facial peel depending on your unique skin goals. A laser peel can be very successful at reducing skin issues resulting from aging or sun overexposure and is the best way to address the problematic lines that occur around the mouth and eyes. Contour TRL™ is unique because its depth of ablation can be fully controlled by your dermatologist, allowing for predictable and precise results.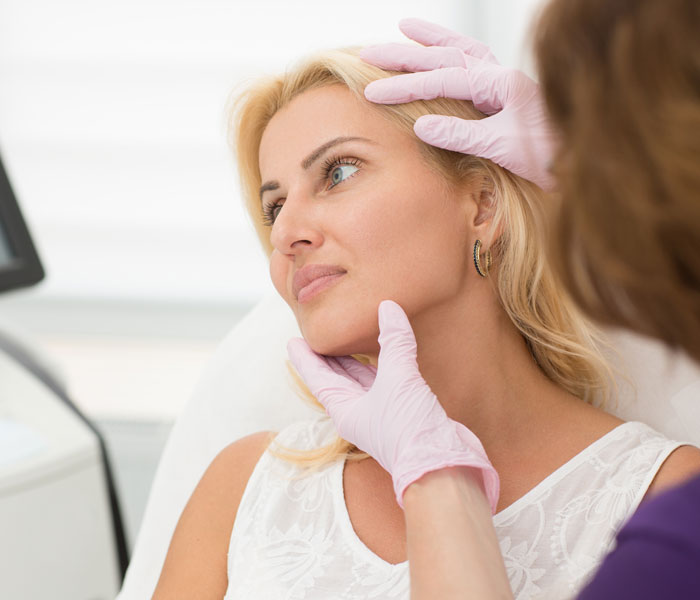 Dermatology Associates of Plymouth Meeting is proud to offer a broad inventory of top-of-the-line lasers to ensure our patients can achieve the skin of their dreams based on their timeline, budget and goals. Contour TRL™ holds an important place in our laser suite because it can be used for full-field laser resurfacing, which is ideal for reducing deep-set wrinkles and treating the entire facial region.
As opposed to a fractionated laser like Halo which creates microchannels in the skin, TRL is a fully ablative laser that removes full layers of skin to a precise depth. Contour TRL™ prompts the body to create collagen as a wound-healing response. The result is skin that looks refreshed, renewed and rejuvenated by improving the skin's thickness and resilience. The skin's surface will continue to re-grow with fresh, healthy cells, giving the skin a younger appearance.
What to Expect from Contour TRL™
Contour TRL™ is a powerful laser capable of achieving dramatic results. It is also fully customizable, so your downtime is dependent upon your desired outcome and depth of treatment. Because Contour TRL™ can affect tissue with micron precision, your dermatologist can treat your skin with the exact amount of energy required to achieve your results. This means excellent results are typically achieved after only one treatment.
What to Expect During Your Treatment
Depending on the size and extent of your treatment, the procedure usually lasts 15 to 60 minutes. For lighter procedures, topical numbing cream will be applied for your comfort. For more extensive procedures, injectable local anesthesia may be required. You may experience redness similar to a sunburn immediately after treatment. Your cosmetic team will make sure you have everything you need for after-treatment care, which may include special ointments to keep the skin moist. It will be important to avoid sunlight as your skin heals.
What is the Recovery Time
Recovery time is variable depending on the extent of treatment. For light treatments, full recovery is seen in as little as a weekend whereas more aggressive treatments can take 2-3 weeks. Over the next four to six months, new collagen will continue to grow and the skin may show increasing improvements in tightness and resilience.
Contour TRL™ provides amazing results that you'll want to maintain for years to come. Your cosmetic team at Dermatology Associates of Plymouth Meeting may recommend a variety of skin maintenance treatments, such as HALO™ Pro, a highly tunable laser that can be completely customized to maintain your results from Contour TRL™. Your cosmetic team will also recommend a curated suite of skincare products for your use at home that includes growth factors, retinol, antioxidants and sunblock containing zinc oxide or titanium dioxide.
Schedule your appointment at Dermatology Associates of Plymouth Meeting to learn more about Contour TRL™ by Sciton. After examining your skin and finding out more about your skin goals, our dermatologists will be able to recommend the best combination of treatments to provide the dramatic results you desire. If you are looking for a dramatic improvement in the appearance of wrinkles, sun damage or scars, Contour TRL™ is an ideal choice for achieving amazing results in as little as one treatment.