Laser Treatment for Vitiligo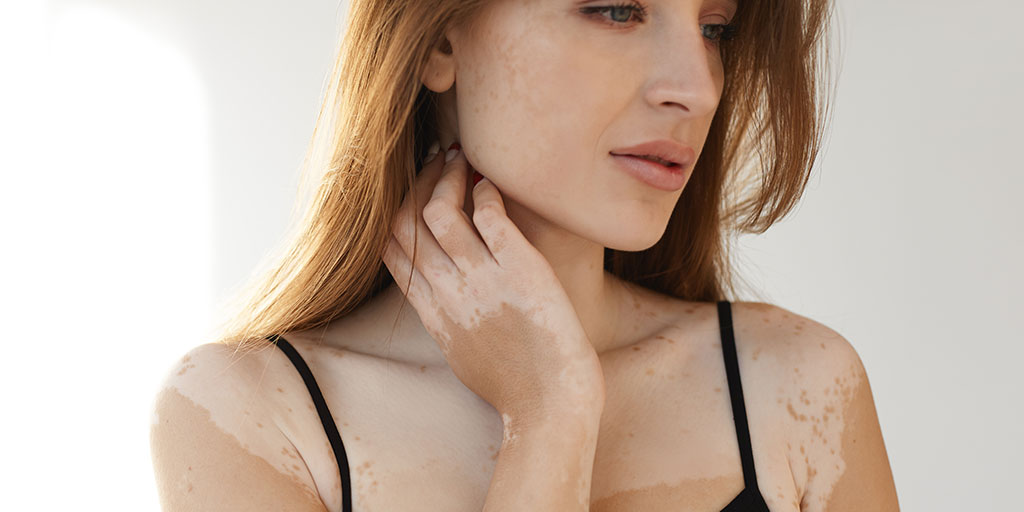 Patients with vitiligo who come to the Dermatology Associates of Plymouth Meeting will find themselves at the right place; as home to one of the most impressive collections of lasers in our region, we offer an effective treatment for almost every skin condition—including vitiligo. Even though vitiligo is not life-threatening or contagious, it is still bothersome and can become emotionally debilitating, making treatment worthwhile. Thanks to advances in laser technology, vitiligo is now highly treatable with XTRAC laser therapy.
How to Treat Vitiligo
To understand how XTRAC laser therapy works, it is important to first understand how vitiligo manifests on the skin. Vitiligo is a skin disease that causes skin to lose its color in blotches. This loss of color, also called depigmentation, happens when cells responsible for melanin production die or cease functioning. Vitiligo can cover numerous parts of the body, isolated areas or only one side depending on the type of vitiligo. No two cases of vitiligo are the same, but our board-certified dermatologists are highly experienced in diagnosing and treating it.
XTRAC Laser Therapy for Vitiligo
Excimer Laser Therapy, also known as XTRAC, is an incredibly innovative laser suitable for treating a variety of skin conditions including psoriasis and vitiligo. It is painless and works by selectively focusing a laser UVB light beam only on areas that are affected by disease, leaving surrounding areas of skin untouched. This light therapy stimulates healthy skin cell growth and triggers the production of melanin in areas where the skin has lightened from vitiligo. XTRAC attacks the DNA of T cells—a type of white blood cell that influences the breakdown of pigment making cells in vitiligo—which leads to gradual repigmentation of the treated areas. Since XTRAC laser therapy is not considered to be a cosmetic treatment, it is often covered by medical insurance. Several treatments are required to achieve desired results and maintenance treatments are necessary.
What to Expect During XTRAC Laser Therapy
You may rest assured that XTRAC laser therapy is not painful and does not require an anesthetic. Treatments happen in the comfort of our offices and only last between five to 10 minutes thanks to rapid exposure times of the device. Since most people only experience a slight redness similar to a sunburn after treatment, it is absolutely possible to return immediately to work or normal activities. Your cosmetic dermatology team will likely recommend a series of bi-weekly XTRAC treatments along with prescription topical treatments for enhanced results. In as few as 11 treatments, repigmentation can be seen. Ideal results usually require approximately 30 treatments.
Preserving Your XTRAC Results
Protecting your skin from overexposure to the sun is extremely important for people with vitiligo. To best preserve your XTRAC results, it is essential to avoid getting a tan which may accentuate differences in skin tone. It is also important to avoid sunburn in areas of vitiligo that do not have pigment. Avoid direct exposure to sunlight or wear a broad-spectrum sunscreen with a minimum SPF 30 to preserve your XTRAC results. Wearing sun-protective clothing, a wide-brimmed hat and staying in the shade are also smart choices. By taking excellent care of your skin, you will enjoy long-term results of your XTRAC treatments.
Safety of Vitiligo Treatment
Safety is always our topmost priority at Dermatology Associates of Plymouth Meeting. We are committed to spending ample time with each patient to fully outline any safety concerns or risks that may be involved with applicable procedures and treatments. Although rare, it is possible for patients to experience blistering, itching or a burning sensation after XTRAC therapy sessions. However, no medical risks of XTRAC therapy have been identified, and it is regarded as safe for children and adults.
Living with vitiligo is optional. If you are ready to seek treatment for vitiligo through XTRAC laser therapy, contact us today at 610.828.0400.