How Does CoolSculpting Work?
The idea of "melting fat away" has been around for a long time. You've probably seen old photos of vibrating weight loss belts that became popular in the 1930s. Based on the thought that applying jiggling vibrations to whatever parts of the body needing slimming down would supposedly melt fat away, men and women soon realized these contraptions simply did not work.
Fast forward to today—nearly a century later—and the brightest minds in science, medicine and healthcare have actually discovered how to "melt" fat away through innovative technology called CoolSculpting®. CoolSculpting® uses a scientific process called cryolipolysis, also known as "fat freezing," which permanently kills fat cells.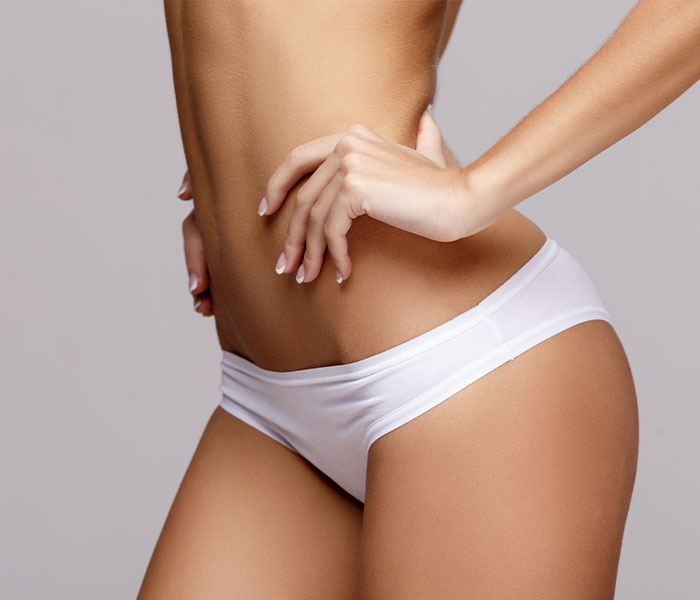 CoolSculpting® is a proven, safe, and effective procedure for fat reduction. Contact us today to schedule your consultation.
For patients struggling to lose bothersome pockets of fat that seem resistant to diet and exercise, CoolSculpting® is an amazing solution. It uses scientifically proven and FDA-cleared non-surgical fat-freezing technology to treat visible fat bulges under the chin and jawline, along the abdomen and flank, as well as fat pockets in the back, underneath the buttocks and in the upper arm.
Non-Surgical Fat Reduction
CoolSculpting® is not a weight-loss treatment—rather, it is the top nonsurgical fat reduction treatment used by doctors. This makes it ideal for body contouring in areas that stubbornly resist diet and exercise. The CoolSculpting® team at Dermatology Associates of Plymouth Meeting will work together with you to develop a customized plan to tone and sculpt your troublesome areas. This plan may include one treatment or several, depending on your unique goals.
The CoolSculpting® Technology
Cryolipolysis—the process of "fat freezing"—is the technology behind CoolSculpting® that makes its results permanent. To best explain this process, it is important to understand that the amount of fat cells a person has is determined at a young age. Any weight gained and lost over time is not due to the gain and loss of fat cells. Rather, it is due to the increase and decrease in the size of those cells. The only way to achieve a permanent loss of fat cells is to either remove them through liposuction or cause their death through cryolipolysis.
CoolSculpting® works on the basis that fat cells have been scientifically proven to freeze at certain temperatures. During a CoolSculpting® treatment session, an applicator adheres to an area of your body where excess fat exists to initiate the cryolipolysis process. Once fat cells reach the point of freezing, the cells die and are naturally eliminated by the body through the liver in one to three months or more. This results in CoolSculpting® being able to reduce fat by up to 25% in a treated area per treatment cycle. Retreatment of the same areas can further improve fat reduction.

FDA Cleared to Reduce Fat
CoolSculpting® is FDA-cleared as a safe and effective way to reduce excess fat. It does not require any cutting, tissue manipulation or anesthesia, so most patients are able to resume their normal activities immediately. Even though CoolSculpting® is safe for most people, there are certain conditions that weaken or change a person's ability to handle the cold.
You should not consider CoolSculpting® if:
You are pregnant or breastfeeding
Have a Condition where temperature changes killred blood cells (such as cold agglutinin disease orparoxysmal cold hemoglobinuria)
Have Raynaud's disease
Have Nerve conditions, such as diabetic neuropathy
Are on Long-term use of blood-thinning medications
Have a History of hernia
Have Chronic pain conditions or severe anxiety disorders
The Effects of CoolSculpting®
Aside from developing a more slimmed and trimmed appearance, side effects of CoolSculpting® are typically minimal and most patients experience little to no downtime after treatments. Although normal side effects include temporary redness, swelling, tingling, bruising or skin sensitivity, patients are free to return to normal activities and exercise immediately after treatment. Results will start to appear in as soon as one to three months post-treatment, with final results appearing in six months. The most remarkable effect of CoolSculpting® is a new sculpted and toned appearance in treated areas. Your clothes fitting better, looking better and feeling better on you is a bonus.
Schedule your appointment at Dermatology Associates of Plymouth Meeting to find out more about how CoolScupting® works. Take advantage of its innovative, scientifically-proven technology to achieve a more sculpted and toned appearance.