Which Parts of the Body Can CoolSculpting® Be Used On?
If body contouring with CoolSculpting® sounds appealing to you, you're probably interested in learning more about which parts of the body CoolSculpting® can be used on. CoolSculpting® stands apart from similar treatments because it is FDA-cleared to freeze fat in nine different treatment areas.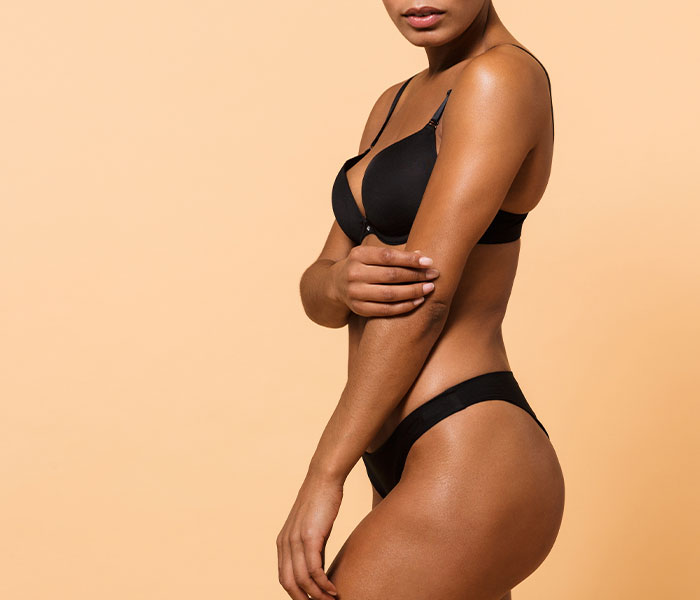 The Areas That are FDA-Cleared to Treat With CoolSculpting® Technology are:
Flanks, also known as love-handles or muffin top
Abdomen
Thighs, including inner thighs and outer thighs
Excess fat underneath the chin, also known as submental fullness or a double chin
Bra fat
Back fat
Fat underneath the buttocks, coined "banana roll"
Upper arms
Submandibular area below the jawline

What to Expect from CoolSculpting® Specific Areas of the Body
CoolSculpting "freezes" fat away through innovative technology that uses a scientific process called cryolipolysis, which permanently kills fat cells. It is not a weight-loss treatment—rather, it is the top nonsurgical fat reduction treatment used by doctors. This makes it ideal for body contouring in areas that stubbornly resist diet and exercise. The CoolSculpting® team at Dermatology Associates of Plymouth Meeting will work together with you to develop a customized plan to tone and sculpt your troublesome areas. This plan may include one treatment or several, depending on your unique goals. Here's what CoolSculpting® can do for specific areas of the body:
Muffin tops and love handles frustrate both men and women. If diet and exercise are unsuccessful in reducing the bulges at the top of your pants, CoolSculpting® can easily freeze fat in these areas. If the fat in your flanks is "pinchable," it can likely be CoolSculpted.
If you're sick of your lingering "spare tire" or if your belly hangs over the top of your pants, your abdomen may benefit from CoolSculpting®. A flatter stomach can help your clothes fit better and boost confidence. Keep in mind that if your stomach flab is actually excess skin laxity resulting from significant weight loss, you would be a better candidate for a tummy tuck or other type of procedure.
CoolSculpting® is highly beneficial in reducing fat in the inner and outer thigh areas. Say goodbye to saddlebags and hello to a thigh gap! Slimming down the thighs is an important step toward having your clothes fit better, particularly pants and dresses. Since these areas are commonly resistant to exercise, CoolSculpting® thighs is a great choice.
If you thought reducing double chin fat was impossible, think again. CoolSculpting® a double chin reduces fat under the chin by up to 25% and also improves tissue laxity. For people who have a genetic predisposition for fullness under the chin, CoolSculpting® is one of the only ways to slim and sculpt the area.
Also known as "bra bulge," this is the area between your breast and armpit that often spills over the top or out the side of your bra. Before this area can be CoolSculpted, it must be examined to ensure the excess tissue is merely fatty tissue rather than glandular breast tissue. As long as this area contains only fatty tissue that is "pinchable," it can likely be reduced through CoolSculpting®.
Trying to eliminate back fat through diet and exercise alone can be extremely frustrating for men and women. If back fat is causing you stress and lowering your quality life, it may be time to CoolSculpt® it. CoolSculpting® back fat can be beneficial in achieving a more fit appearance and helping clothes lay smoother against the body.
The fat deposits that can form under the buttocks, also known as a "banana roll," can create a bumpy appearance of the upper thigh beneath the buttocks. It is a notoriously difficult place to fight fat for men and women—even star athletes can have a banana roll. Fortunately, your banana roll can be CoolSculpted® for a slimmer and smoother lower buttock contour.
Particularly for women, upper arm flab can be a major problem. If you're tired of feeling like you have "bat wings," it may be time to consider CoolSculpting® your arms. Even in cases of extreme weight loss, it is common for arm flab to be the last to go. Arm flab is no match for CoolSculpting®—if it's squeezable, it's freezable!
Submandibular Area Below the Jawline
CoolSculpting® is the first and only nonsurgical fat reduction treatment to contour the area below the jawline and improve the appearance of lax tissue. Contouring this area of the face can help to achieve a sexy "chiseled" jawline and further reduce the appearance of a double chin.
More Information on CoolSculpting®
Your aesthetic team at Dermatology Associates of Plymouth Meeting comprises many CoolSculpting® experts. We invite you to schedule an appointment to learn more about CoolSculpting® and allow us to develop a personalized fat-freezing plan based on your unique body contouring goals. It's time to achieve a sculpted appearance in areas of your body where you never thought it could be possible.
Schedule your appointment at Dermatology Associates of Plymouth Meeting to find out more about the areas of your body that can benefit from CoolSculpting®.