How Long After Laser Tattoo Removal Will My Tattoo Fade?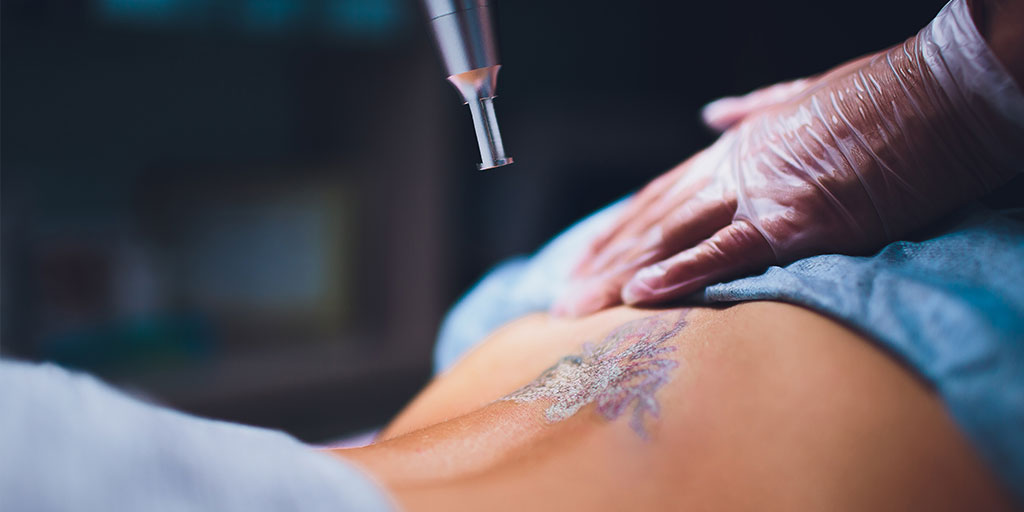 Laser tattoo removal is a specialized procedure that utilizes quick pulsing energy to target tattoo pigments and triggers the skin to release these pigments. Upon release, the skin naturally reabsorbs these pigments and disposes of them. Because the treatment targets the pigments and not surrounding skin, it can produce astounding results without scarring. In fact, most patients only experience a few hours of pink, sensitive skin after treatment.
Understanding Laser Tattoo Removal
Before we discuss the aftereffects of laser tattoo removal, it is important to first understand how laser tattoo removal works. Every individual's laser tattoo removal process is unique and the length of treatment and number of sessions will depend on the depth of pigment, tattoo color and size of the tattoo. To produce the best results, it is important to allow the skin time to heal between treatments and to allow the body's immune system to reabsorb and dispose of the tattoo inks. Most practitioners recommend about six to eight weeks between laser sessions, depending on skin tone.
The Technology of Laser Tattoo Removal
Dermatology Associates of Plymouth Meeting is a premier choice for laser tattoo removal in the tri-county area as we are the only dermatology group to utilize the cutting edge Discovery Pico laser. This laser combines Q-Switched and Pico, two effective laser tattoo removal technologies, that can target tattoos of any color and at any skin depth. Combining these laser actions into one treatment allows for faster and more effective removal of tattoos.
The Discovery Pico laser is the most powerful device on the market and uses three wavelengths that penetrate the skin to shatter inks and pigmentations while leaving surrounding tissues unharmed. Through shorter pulse durations and a high peak power, it is also able to effectively reach even the deepest skin pigment.
What to Expect During Laser Tattoo Removal
Each tattoo removal process begins with a consultation to determine the length and number of treatments needed to fade and remove your tattoo. Treatment plans can be customized to meet your needs and schedules, and most patients can expect minimal downtime. During treatment, a topical anesthetic will be applied to numb the treatment area. Most patients describe the feeling of treatment as similar to tiny hot dots on the skin and this warmth is combated by a stream of cold air that is produced by the treatment device. 
Schedule a consultation to achieve the healthiest skin of your life
Contact Us
What to Expect After Laser Tattoo Removal
As a result of the revolutionary Discovery Pico laser, patients can expect to be blown away by the results of their tattoo removal, especially because Discovery Pico can work to remove tattoos that otherwise are seen as poor candidates for treatment or removal. Following treatment, a temporary reaction known as "frosting" is common. This reaction is best described as a steam buildup under the skin which occurs as your skin reacts to the heat energy produced by the Discovery Pico laser. It subsides within the hour following treatment. Depending on the skin type and inks used in a tattoo, temporary crusting and blistering may occur after laser tattoo removal. Tattoos will begin to fade within the first two to three weeks after treatment.
Individual Response Can Vary
It is important to understand that each individual's response to laser tattoo removal is different, just as each tattoo is different. Laser tattoo removal is a process that relies on the body eliminating ink from the skin which can take some time to process. While results will become apparent within a few weeks, it is not unusual for the body to take more than a year to completely eliminate ink.
For more information on how to remove tattoos and improve your skin, schedule an appointment at Dermatology Associates of Plymouth Meeting to develop a customized plan.