Tips for Topical Wound Care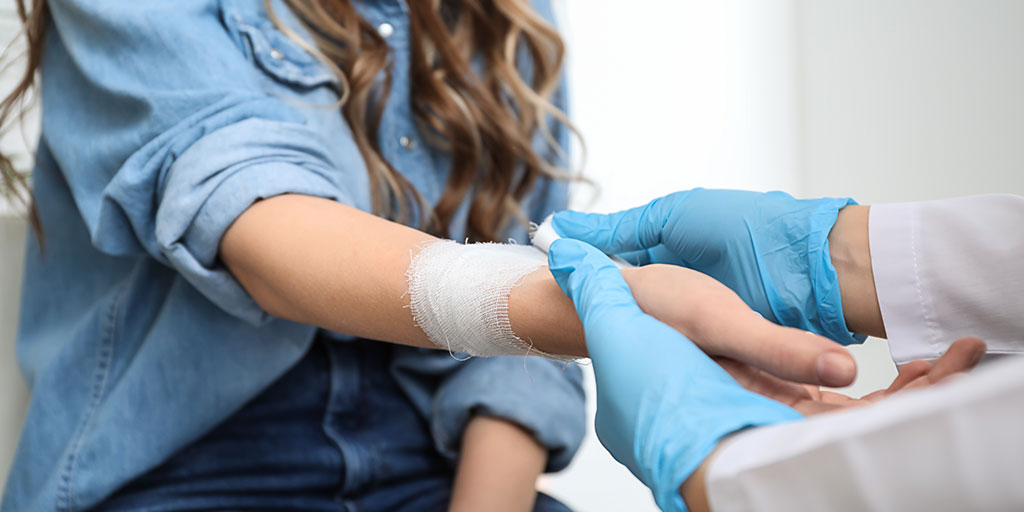 When it comes to skin health, it is important to care diligently for both healthy skin and wounded skin. At Dermatology Associates of Plymouth Meeting, we prioritize follow-up care after biopsies or excisional surgeries. We will never send you home without detailed, easy-to-read instructions on how to properly care for your skin after a procedure. We want your recovery to progress as quickly and painlessly as possible and for your skin to heal with minimal-to-no scarring left behind.

Basics of Topical Wound Care
The most important aspects of caring for a skin wound after a biopsy or excision treatment are keeping the wound clean and moist. It is also critical to avoid picking at the wound site, which increases infection and scarring risks. If a wound appears to become infected, you must call our office immediately. By following your post-care instructions on how to best care for topical wounds, your wound should heal normally without infection.
How to Keep Your Wound Clean and Healthy
Specific instructions on how to care for your unique wound will be sent home with you after your procedure. However, here are some general rules of thumb for caring for a topical wound:
Do not let your wound get wet for the first 24 hours
After 24 hours, remove the bandage and shower normally, but do not scrub the wound. Simply allow soap and water to run across the wound and rinse it.
Keep the wound moist by applying Vaseline and/or Aquaphor.
Cover the wound with a clean bandage changed at least once daily.
Do not pick at the wound or remove steri-strips (these will typically fall off on their own).
Take Tylenol (acetaminophen) for any wound-related pain or discomfort or use cold compresses for up to 20 minutes hourly as needed.
As your wound heals, keep in mind it may take several weeks to see it completely heal. Discoloration at the wound site may take several months to fade, which is completely normal.
Schedule a consultation to achieve the healthiest skin of your life
Contact Us
How to Determine if Your Wound is Infected
It is important to take all precautions to avoid wound infection. This includes avoiding contaminated water (such as lakes, rivers or oceans). If you choose to swim in a chlorinated pool, apply a waterproof bandage over your wound (we like a dressing called Tegaderm). To keep infection at bay, you should also minimize strenuous activities that might apply pressure to the wound site. You should certainly try to avoid any exercise that pulls at the wound.
It is normal for your wound to appear slightly red and be tender to touch. Clear or yellow discharges are also normal parts of the healing process. However, if you develop a high fever, develop increased or continual pain from the wound or notice green, cloudy or pungent drainage from the wound, you should call our office immediately or visit your nearest emergency room. Other common signs of an infected wound are redness, swelling and hot skin near the wound. Your wound could also be severely infected if you experience a loss of function or movement in the area of your body where the wound is located.
We hope this helps you better understand the basics of wound care. As our patient, you can be confident in the quality of care you will receive during your procedure and as you recover. The number of follow-up appointments you will have with your dermatologist to monitor the progress of your healing will depend on the extent of your biopsy or excisional procedure. If you have questions about your wound or are concerned it may be infected, please call our office immediately.