Am I A Good Candidate For Mohs Micrographic Surgery?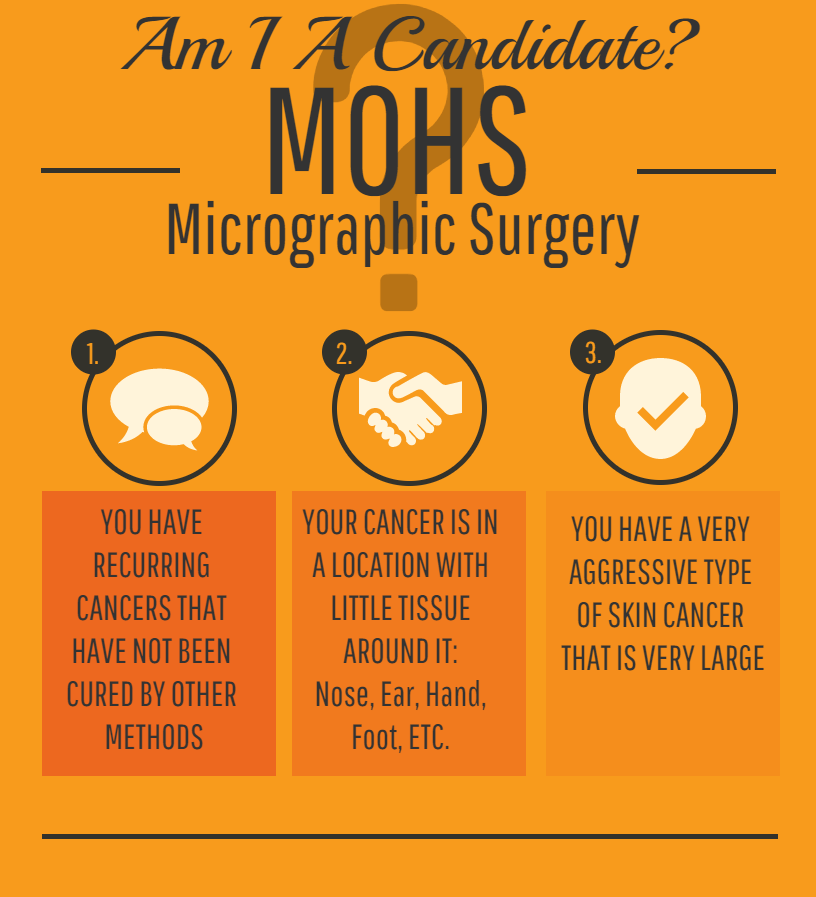 Mohs Micrographic Surgery is an advanced, microsurgical technique that is widely accepted as the most accurate treatment for skin cancer. It is typically recommended for the treatment of the most common types of skin cancer, basal cell carcinoma and squamous cell carcinoma, but it can also be successful in the treatment of the more aggressive type of skin cancer, melanoma. Mohs Micrographic surgery is usually used for treating growths in cosmetically sensitive areas of the body, like the face, as well as other hard-to-reach areas, like the neck, hands, and feet. The surgery itself is extremely precise, allowing the highest amount of healthy skin around the cancer to be preserved, as well as efficient, providing the highest cure rates available. You may be a good candidate for Mohs Micrographic surgery if you have been diagnosed with basal cell carcinoma or squamous cell carcinoma in a sensitive area with minimal amounts of skin surrounding it. It may also be the right option for you if you worry about the appearance of a scar, or if the cancer has a high possibility of returning. Many people have seen success from Mohs surgery when they were diagnosed with aggressive types of cancer, or recurring types of cancer, as well.
Schedule a consultation to achieve the healthiest skin of your life
Contact Us
Mohs Micrographic Surgery Procedure Mohs Micrographic surgery is different from other methods of cancer removal as it utilizes a special technique that removes tissues one layer at a time. Each layer is meticulously examined under a microscope to guarantee all cancer cells are removed. If cancer cells are still seen, the process is repeated until all remnants are gone. While this technique may be slower than other methods, it is proven with a 99% cure rate.
Who Performs the Procedure? As Mohs Micrographic surgery is extremely technical and specialized, it requires a highly trained dermatologist to perform the procedure. During your consultation, ensure that your dermatologist is formally trained and is accredited by the American College of Mohs Surgery (ACMS). To learn more about Mohs Micrographic Surgery, or to schedule your consultation at Dermatology Associates of Plymouth Meeting, serving the Philadelphia metro area, including The Main Line, Chestnut Hill, Blue Bell, Gwynedd, and Flourtown, please fill out the form on this page or call 610.828.0400.