Tis the Season, to Rejuvenate Your Skin!
There's no better time than the present to take your skin care to whole new levels. It seems like this time of year, there's always a new social event around the corner. Unfortunately, winter also brings dry, lackluster skin.
But we're here to help. Show up to your next social gathering with fresh, glowing skin with one of our many skin-rejuvenating procedures.
We offer customized treatments for any skin color or type. The majority of our procedures have limited downtime so you can boost your self-image while maintaining your busy lifestyle.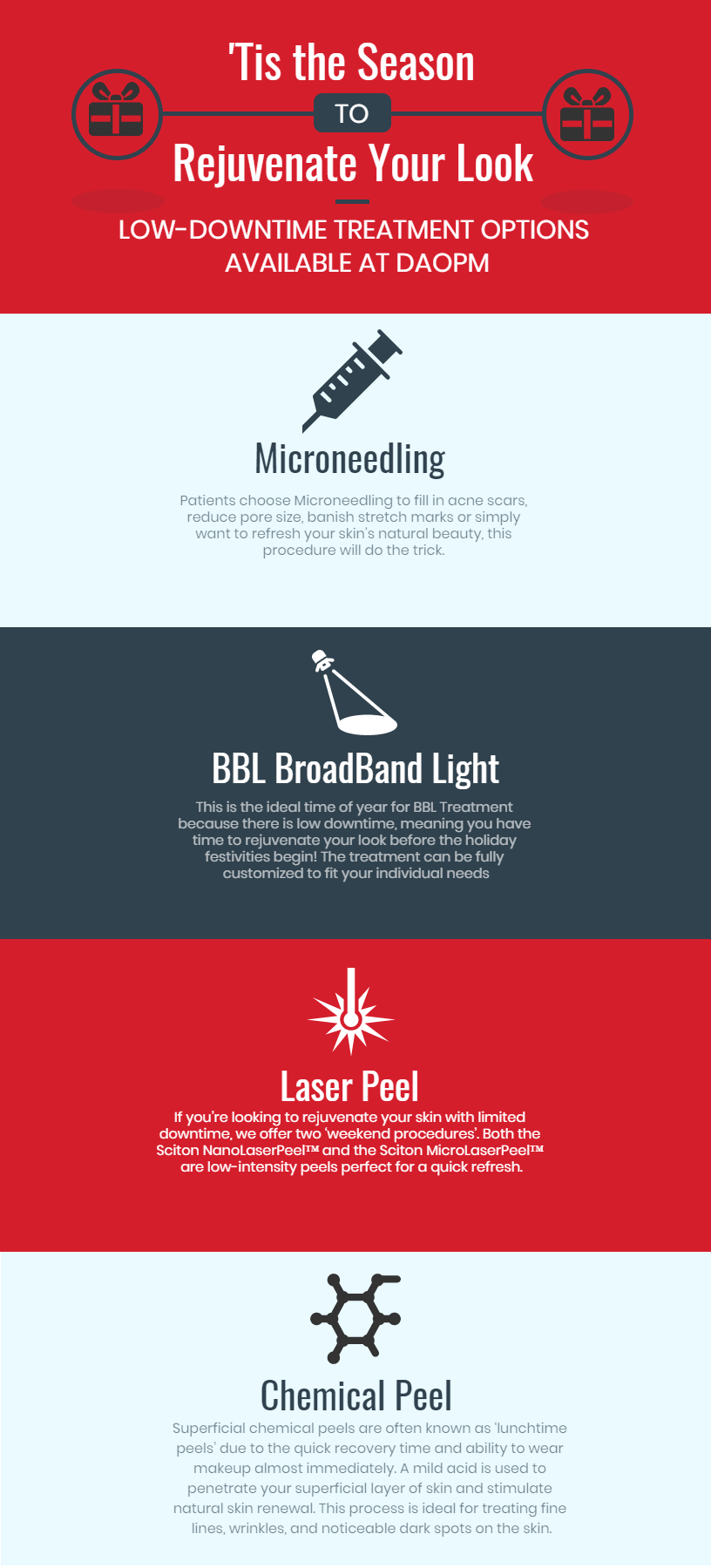 Microneedling
Microneedling is a great way to get your body to naturally produce collagen for thicker, healthier skin. Whether you're looking to fill in acne scars, reduce pore size, banish stretch marks or simply want to refresh your skin's natural beauty, this procedure will do the trick.
There are no injectable fillers placed under the skin with microneedling. Instead, a tool with 11 tiny needles on the tip is used to penetrate the superficial layer of your skin (after a numbing cream is applied, of course). This creates hundreds of micro-punctures that trick your skin into releasing extra collagen.
Microneedling, or collagen induction therapy, produces smoother, radiant skin for longer. This skin-thickening procedure works well with any skin color or type. It's recommended to give skin a reboot with microneedling every 3-6 months.
BBL BroadBand Light
Sciton Broadband Light is a powerful intense pulsed light (IPL) treatment available at Dermatology Associates of Plymouth Meeting, the treatment can be customized to fit your individual skin concerns. This is the ideal time of year for BBL Treatment because there is low downtime, meaning you have time to rejuvenate your look before the holiday festivities begin!
Treatment options available are:
Forever Young BBL: treats common signs of aging, including wrinkles, age spots, redness & sun damage.
Forever Clear BBL: Ideal from patients who are suffering with acne.
Forever Bare BBL: Ideal for patients looking to get rid of unwanted hair.
During your individual consultation we can discuss all of the available treatment options and come up with a plan that bests suits your needs.
Laser Peel
If you're looking to rejuvenate your skin with limited downtime, we offer two 'weekend procedures'. Both the Sciton NanoLaserPeel™ and the Sciton MicroLaserPeel™ are low-intensity peels perfect for a quick refresh.
Each are very light and only target the topmost layer of the skin to address complexion issues. The Sciton MicroLaserPeel™ can also be adjusted to produce deeper results. Your cosmetic surgeon will happily discuss which laser peel option is best for you during your consultation.
After a laser peel, your skin can be hypersensitive to sun. Fall and Winter are typically the best seasons for these procedures due to shorter daytime hours. You may require several treatments to achieve desired results.
Schedule a consultation to achieve the healthiest skin of your life
Contact Us
Chemical Peels
A superficial chemical peel is a great option for those seeking to exfoliate dead skin cells. Superficial chemical peels are often known as 'lunchtime peels' due to the quick recovery time and ability to wear makeup almost immediately.
A mild acid is used to penetrate your superficial layer of skin and stimulate natural skin renewal. This process is ideal for treating fine lines, wrinkles, and noticeable dark spots on the skin.
We have several options available to you if you're interested in a superficial chemical peel. We'll work with you to come up with the best plan of action to give you younger, healthier skin during your consultation.
Maintenance peels are generally recommended every 3-6 months. Chemical peels can leave your skin sensitive to the sun making Fall and Winter ideal times for this procedure.
To learn more about your available skincare options or to schedule your consultation at Dermatology Associates of Plymouth Meeting, serving the Philadelphia metro area, including The Main Line, Chestnut Hill, Blue Bell, Gwynedd, and Flourtown, please fill out the form on this page or call 610.828.0400.