Be Aware-your sunscreen SPF may not be your SPF!
The number on the bottle isn't always accurate: Of the 58 lotions, sprays and sticks rated by Consumer Reports this year, 20 of them tested at less than half of the SPF listed on their label. For example, one sunscreen they tested was labeled SPF 30, but the UVB protection it actually provided was between 10 and 19.
There were some winners, though. Here are their top five sunscreens: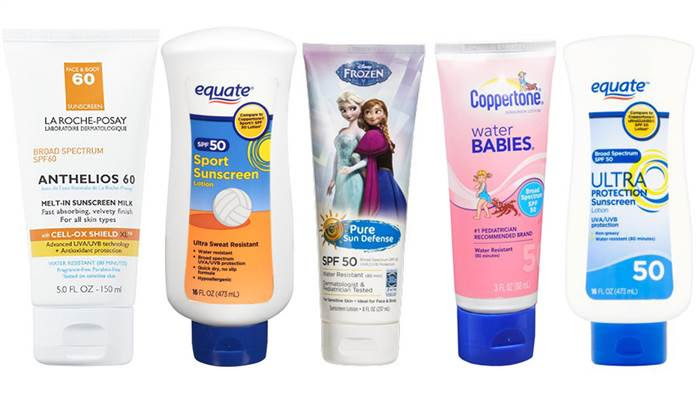 La Roche-Posay, Anthelios 60 Melt-in Sunscreen Milk, $36
Equate, Sport Lotion SPF 50, $5
Pure, Sun Defense Disney Frozen Lotion SPF 50, $6
Coppertone, WaterBabies Lotion SPF 50, $12
Equate, Ultra Protection Lotion SPF 50, $8
We recommend using a sunscreen with an SPF of at least 40. It should also contain ingredients like titanium or zinc oxide rather than "natural" ingredients.
If you have trouble finding these, we can supply you with a sunscreen that our group recommends for you and your family very easily.
Schedule a consultation to achieve the healthiest skin of your life
Contact Us
Looking for a sunscreen you can spray? Trader Joe's Spray SPF 50+ received an excellent rating, along with Banana Boat Sun, Comfort Clear Ultra, Mist Spray, and Equate Sport Continuous Spray SPF 30. Though there are a few things to keep in mind when using a sunscreen spray. "You have to hold the nozzle close to your skin, and don't spray the product into the wind. You often see parents running behind kids on the beach, spraying. You should also rub the sunscreen in after you spray it on — which some people don't do.
Regardless of what kind of sunscreen you choose, follow these steps to avoid getting burnt:
Shake the bottle. This helps to distribute the ingredients throughout the bottle.
Apply sunscreen BEFORE you go outside. Aim for 15 to 30 minutes before.
Reapply every two hours. And whenever you get out of the water, no matter how much time has passed, or if an ingredient is water resistant.
Remember to apply sunscreen to often-forgotten parts of your body like your scalp, toes, ears and more. Wear a hat when you can!
Sunscreen doesn't protect you in full-if you are outside for prolonged periods of time-you will get 'sun.' But there is no question that sunscreen use allows you to be as 'safe in the sun' as you can be! We recommend using as high a SPF as you possibly can–you can never have 'too much!" as the above evidence suggests.