Dermal Fillers Offered by Dermatology Associates of Plymouth Meeting
As a patient of Dermatology Associates of Plymouth Meeting, you will have a cosmetic team at your service developing a personalized plan to help you achieve your individual skin and appearance-related goals. Dermal fillers are an excellent adjunct to many skin renewal plans because they provide results that are immediate yet continue to improve over time. Even the deepest-set wrinkles can be improved with dermal fillers. There are many different types of dermal fillers and strategies for their use which will be explained below.
Best Candidates for Dermal Fillers
You may be wondering if dermal fillers are right for you. If you have experienced facial volume shrinkage due to aging that has led to hollowed cheeks, marionette lines around the mouth or jowling in the chin area, dermal fillers can help. Dermal fillers work by replacing lost facial volume and smoothing moderate to severe wrinkles. The results of dermal fillers appear immediately and typically last between six and 12 months. Men and women of any age who are experiencing common signs of aging can benefit from dermal fillers.
Types of Dermal Fillers
Even though there are a variety of dermal fillers from which to choose, their overall premise of restoring lost facial volume and smoothing wrinkles is the same. Below we will outline our most commonly used dermal fillers and explain how we typically use them.
Restylane® Kysse™
Restylane® Kysse™ uses XpresHAn Technology™ for flexible movement and natural-looking volume. It enhances the texture and color of the lips while maintaining a full range of expressions. This innovative lip filler allows your injector to craft the lips you want with precise, targeted results. If you are experiencing upper lip lines, Restylane® Kysse™ can smooth them while enhancing lip color and shape.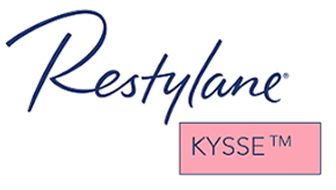 Restylane® Defyne
Restylane® Defyne uses a patented hyaluronic acid gel to smooth away the appearance of moderate-to-severe nasolabial folds and marionette lines. After years of exaggerated and repeated movements of the mouth, it is natural for this area to show signs of aging. Restylane® Defyne is an excellent solution for patients who want to minimize the appearance of deep marionette lines and nasolabial folds without inhibiting normal mouth movements.
Restylane®-L
Restylane®-L is designed to plump out moderate-to-severe wrinkles around the forehead and mouth. It is a hyaluronic acid filler that is also suitable for enhancing thinning, aging lips. Restylane®-L is unique because it contains lidocaine, a local anesthetic that is used to minimize discomfort during the injection process.
Restylane® Lyft
Restylane® Lyft is used to augment cheek volume where aging has broken down collagen and elastin, resulting in cheek sagging and volume loss in key facial areas. While minimizing the appearance of wrinkles and lines, Restylane® Lyft also restores elasticity and youthful volume in the cheeks. Additionally, it can be used to "lift" or add volume to various areas of the face, including the temples, or it can be used to fill depressed areas of the nose.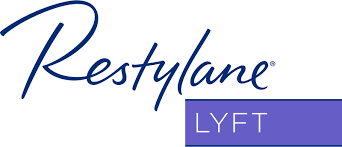 Restylane® Refyne
Restylane® Refyne is used to smooth mild to moderate wrinkles and general lines, particularly in the mouth area. Nasolabial folds and marionette lines that often form as a result of repeated mouth movements like smiling, talking and laughing can be reduced or eliminated with this hyaluronic acid gel.
Restylane® Before and After
Restylane® Silk
Restylane® Silk is designed specifically to subtly correct lines and wrinkles around the mouth. It works in a way that allows the mouth to continue its natural movements, all while looking younger and rejuvenated. In addition to enhancing the lips, Restylane® Silk also smooths wrinkles around the lips.
Juvederm® Voluma™ XC
Juvederm Voluma™ XC is designed to subtly add volume to the cheek region. As we age, collagen and elastin levels drop, which can cause significant sagging. An expertly-injected cheek filler can revive the appearance of hollow cheeks and create facial contours that resemble a more youthful appearance.
Juvederm® Ultra Plus XC
Juvederm® Ultra Plus XC is best suited for adding natural-looking fullness to the lips. It is normal for lips to become thinner with age due to the breakdown and depletion of collagen which can lead to wrinkles and fine lines, often referred to as "smoker's lines." For patients who want to increase lip fullness without looking like they have "had work done," Juvederm® Ultra Plus XC is an ideal filler.
Revanesse® Versa™
Revanesse® Versa™ is a hyaluronic acid dermal filler that can be used to treat moderate to severe facial wrinkles and folds, including nasolabial folds. It can last for up to one year and produces extremely natural results thanks to its spherical particle size which delivers uniform smoothness to treated areas. Patients who receive Revanesse® Versa™ injections typically see less swelling at the injection site than other types of fillers.

To learn more about dermal fillers and how they can help you achieve your skin goals, contact Dermatology Associates of Plymouth Meeting, P.C. for a customized plan today. We will work together with you to develop a personalized strategy to help you achieve smoother, younger-looking skin.