When Should You See a Doctor About Eczema?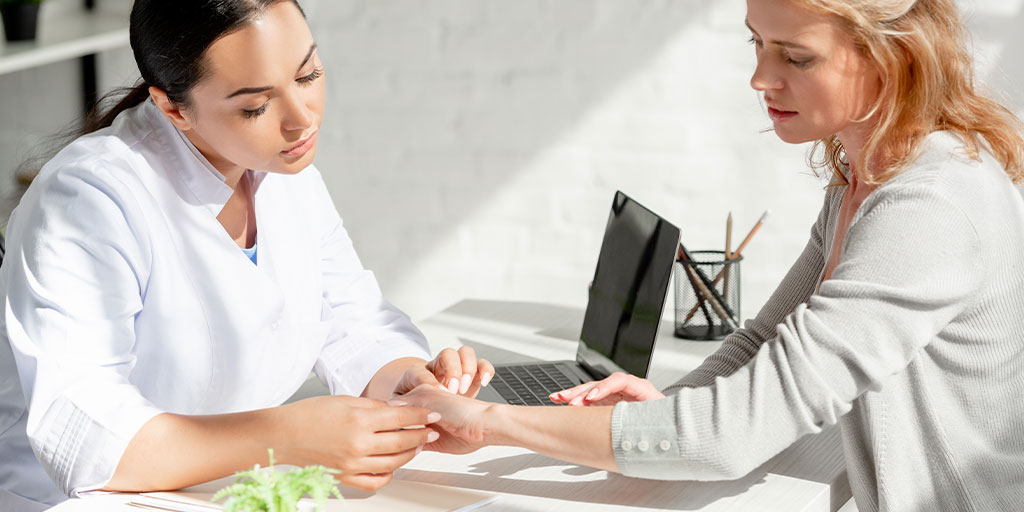 Eczema is a chronic skin condition that impacts more than 31 million Americans and can appear anywhere on the body. Eczema symptoms can range from mild to severe and it is important to understand how these symptoms present in order to determine the best time to see a doctor. It can start as red, uncomfortable patches, although there are several types of eczema that each have different causes and symptomatic presentation on the skin. With the help of a dermatologist, this condition can be managed, and most individuals with eczema can live with minor disruptions from symptoms.
Understanding Eczema Symptoms
Eczema symptoms can include itchy patches of skin, changes in skin tone—including darkening of tone or increased redness—raised patches of skin, open or weeping sores, dry or sensitive skin or areas of swelling. These symptoms can range in severity, but if symptoms become more severe or intrusive to your daily life, it is important to talk with your dermatologist. Your dermatologist may suggest a treatment plan that can help better manage symptoms or enable you to experience less intrusive symptoms.
Eczema symptoms and situations that may require a doctor's visit and/or more personalized treatment include:
Itchiness or symptoms that inhibit sleep or daily activities most days of the week
The development of new symptoms associated with your eczema
Flare-ups are occurring more frequently
Eczema seems to be getting worse or spreading to new locations
Skin inflammation that does not respond after a week of treatment with over-the-counter hydrocortisone creams
Yellowish or light brown crust or pus-filled blisters form over existing patches of eczema
Exposure to anyone with a viral skin disease, such as cold sores or genital herpes, during an eczema flare-up
Painful, small, fluid-filled blisters develop where you get eczema
Eczema is not a contagious condition, and treatment can help eczema become more controllable. It is important to understand your eczema symptoms, as well as what is normal for your body, to monitor changes and be able to continue to control symptoms.
Treatment Options for Eczema
For eczema patients, especially those with milder symptoms, a daily specialized skin care routine, over-the-counter medication or prescription medication from your board-certified dermatologist can help manage flare-ups. Treatments also help minimize risks for infection or scarring and understanding the triggers of eczema flare-ups can help minimize and manage them.
Dermatology Associates of Plymouth Meeting offer several treatment options to help manage eczema symptoms and improve quality of life. Potential treatment options include:
Narrowband UVB
Narrowband UVB is a form of phototherapy that utilizes ultraviolet B (UVB) light, a natural part of sunlight that can help reduce itch, increase vitamin D production, calm inflammation and improve your body's bacteria-fighting systems. This treatment can target specific parts of the body or can treat widespread eczema. About 70 percent of patients see improvement following phototherapy treatment with narrowband UVB. It can also provide greater relief in cases of severe eczema.
Schedule a consultation to achieve the healthiest skin of your life
Contact Us
Prescription Topicals
It is recommended for individuals with eczema to adhere to a regular skincare routine that utilizes gentle ingredients. Patients with mild to moderate symptoms can begin treatment with prescription steroids that help get symptoms under control, or your dermatologist may recommend non-steroidal prescription treatments such as Elidel, Protopic or Eucrisa. Depending on symptoms and triggers, your dermatologist can recommend the best topical treatment for your lifestyle and skin's needs, and dosages and recommendations can be tailored to meet the severity of your eczema symptoms.
DUPIXENT
Dupixent is an injection that is used to treat atopic dermatitis, which is a severe and difficult to treat form of eczema. This injection treats underlying causes of eczema and reduces inflammation, which can provide clearer skin and greater comfort. Results from this treatment include reduced itching and discomfort.
Immunosuppressants
The exact cause of eczema is unknown, but scientists understand there is a connection between eczema and an overreaction of the immune system, which leads to inflammation. In cases of severe eczema symptoms, immunosuppressants may be recommended to slow down the symptoms of eczema by suppressing the immune system's overreaction.
If you feel that it is time to see a doctor about your eczema, schedule an appointment at Dermatology Associates of Plymouth Meeting today. Our board-certified dermatologists are highly experienced and skilled in treating eczema and helping patients with eczema live fuller, more comfortable lives.