How to Treat a Sunburn in Children and Teens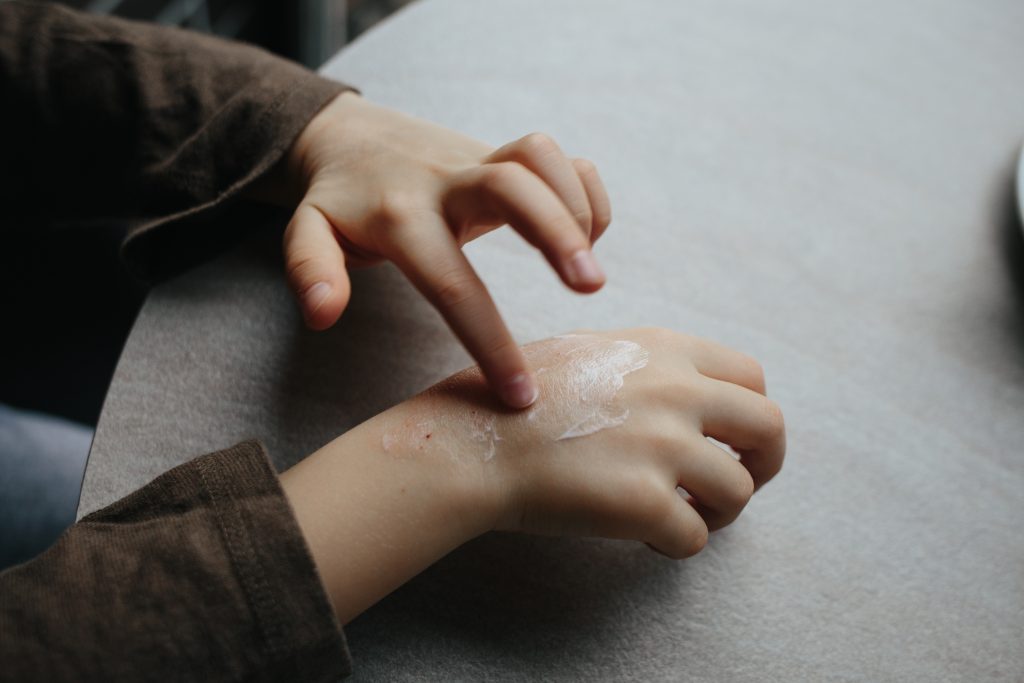 Think about the last time you experienced a sunburn. That stinging, burning pain can make even the most basic of everyday tasks (such as getting dressed and even laying down) extremely uncomfortable. You wouldn't want your own child to suffer from this pain—but unfortunately, sunburns (skin damage that occurs when the skin is overexposed to ultraviolet (UV) rays) do happen to children and teens. Although protection is the best line of defense against sunburn, parents should be prepared to treat discomfort from this common ailment at home and know when it's time to see a medical professional.
Symptoms of Sunburn in Children and Teens
The most common symptoms of sunburn in children and teens are reddened skin that feels warm to the touch, as well as pain or tenderness around the affected area. In more severe cases of sunburn, you may also notice blisters on the skin or swelling of the area.
Treatment for Sunburn in Children and Teens
Watching your little one suffer from a sunburn can be difficult, but there are some things you can do at home to make your child more comfortable as the skin heals itself.
Start by making sure that your child stays out of the sun as much as possible while recovering from a sunburn. For discomfort, a pain medication like ibuprofen can help relieve pain while minimizing inflammation caused by the sunburn itself (check with your pediatrician for a recommended dosage). Non-steroidal and inflammatories can also help with discomfort caused by skin inflammation.
Gently applying cold compresses to the area can provide some relief while reducing swelling. For sunburns that cover a larger area of the body, children may find more relief from an oatmeal bath. Topical treatments like moisturizers, apple cider vinegar and coconut oil can also provide much-needed hydration to damaged skin.
Speaking of hydration, it's important to keep your child hydrated while recovering from a sunburn. Consider offering an electrolyte solution or finding other ways to make water more appealing (such as water flavoring packets) to keep up with hydration.
If your child is still suffering from sunburn even after trying these home remedies, our pediatric dermatology team is here to help.
Prevention of Sunburn
Even if your child is already suffering from a sunburn, there are some things you can keep in mind to prevent this from happening in the future.
Make sure your child is applying sunscreen at least 15 minutes before heading outside—and that sunscreen is being reapplied as needed (usually once every two hours). Likewise, the right protective clothing (including hats to protect the scalp) can go a long way in covering the skin and reducing its exposure to UV rays.
Avoiding time outdoors during times of peak sun can also reduce exposure. This is usually between the hours of about 10AM to 2PM, but you can check your exact peak times based on your location and other factors here.
Treatment of Sun Damage
In cases of severe sunburn, lasting skin damage can unfortunately occur. If you suspect that your child has suffered from sun damage due to a sunburn, our team at Dermatology Associates of Plymouth Meeting offers a number of treatment options, including:
Topical treatments – Products that can be applied directly to sunburned skin work to soothe the skin and reduce irritation. Prescription-strength topical treatments, such as hydrocortisone cream (stronger than the 1% cream you find at your pharmacy), may be recommended in some cases.
Chemical peels – While not recommended until after a sunburn has healed, chemical peels contain solutions that can treat signs of sun damage and restore skin health. Common ingredients in chemical peels for sun damage include glycolic acid, salicylic acid, and lactic acid—all of which nourish sun-damaged skin.
Cryotherapy – For sunburn that has the potential to cause long-term skin damage, cryotherapy can be a viable treatment. Specifically, cryotherapy involves the controlled and incremental use of freezing temperatures to treat and soothe damaged skin.
The specific treatment that's best for your child will depend on the severity of the sun damage, your child's age and other factors. Our knowledgeable and experienced team can provide a thorough assessment of the sun damage and make a personalized treatment recommendation to suit your child's unique case.
When to Seek Medical Attention
Most sunburns are first-degree sunburns that only damage the outer layer of skin and heal on their own within a week. More severe sunburns, such as second-degree burns, may cause permanent damage to the skin and require specialized medical treatment. Seek medical attention right away if your child's sunburn is accompanied by severe blistering, a high fever, headache, nausea, vomiting or dizziness/fainting.
About Dermatology Associates of Plymouth Meeting
At Dermatology Associates of Plymouth Meeting, we're proud to offer a dedicated pediatric dermatology department with comprehensive skin care services. If your child has suffered from a sunburn or sun damage, our committed team is here to help. With a convenient and welcoming environment, you can always rest assured that your child is in good hands at our practice. After all, there's a reason we've been voted "The Best of Montco" for six consecutive years!
Ultimately, prevention is the best way to protect your child from uncomfortable sunburn symptoms—but when the damage has already been done, there are plenty of at-home treatments you can try to make your child more comfortable. Likewise, seeking medical attention when you suspect a more serious burn or sun damage is a must.
Reach out to our team at Dermatology Associates of Plymouth Meeting at (610) 947-4322 for more information on sun damage treatment and other comprehensive skin care services.