What is Pediatric Dermatology?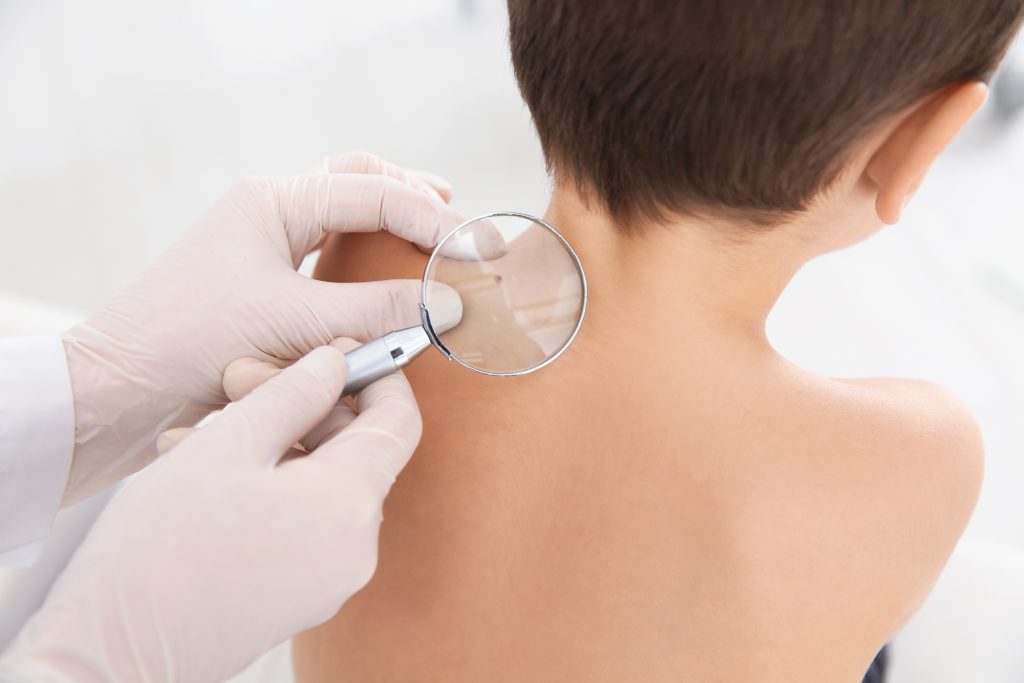 As a parent or guardian, of course, you only want what's best for your child. You take time to research the best pediatrician and other specialists to ensure your child receives the best care—and when it comes to your child's skin care, this should be no different. At Dermatology Associates of Plymouth Meeting (DAPOM), we specialize in pediatric-friendly dermatology so you can rest assured that your child receives specialized skin care, screenings and treatments for any number of childhood skin conditions and ailments.
Understanding Pediatric-Friendly Dermatology
Children and adults have very different needs when it comes to skin care. Some skin conditions, for example, can affect children and teens very differently than they affect adults. Meanwhile, some children can "outgrow" certain skin conditions, whereas other conditions or skin diseases may require specialized treatment.
Because of these nuances, it's important for children to receive specialized care from dermatologists who treat a high volume of pediatric patients. A pediatric-friendly dermatologist will understand how different symptoms and conditions present in children, as well as the treatment options that are best suited for little ones.
Introducing Our Pediatric-Friendly Dermatologists
DAPOM is proud to have two experienced and pediatric-friendly dermatologists on our staff. Dr. Eleni McGeehin graduated cum laude with high honors in Molecular Biology from Dartmouth College, where she also received her medical degree from the Geisel School of Medicine. During her residency in dermatology at Thomas Jefferson University, she developed an interest in dermatologic allergy and patch testing. Today, she practices a combination of general, surgical and cosmetic dermatology here at DAOPM and is highly experienced at diagnosing and treating a variety of skin issues in children.
Meanwhile, Dr. Kathleen McGuinn also completed her dermatology residency at Thomas Jefferson University. She received her medical degree from Sidney Kimmel Medical College and completed a one-year research fellowship in the Department of Dermatology and Cutaneous Biology studying skin cancer. Today, she practices a combination of general, surgical and cosmetic dermatology in our office, providing the specialized pediatric care little ones need and keeping parents/guardians informed every step of the way.
Need to schedule a pediatric dermatology consultation? Contact us today!
Common Pediatric Skin Conditions Treated at DAOPM
At Dermatology Associates of Plymouth Meeting, we're able to diagnose and treat any number of skin conditions and diseases in children, with some of the most common including:
Hives
Skin cancer
Sunburn
Birthmarks
Diagnosis and treatment always begin with a thorough screening in our office. During your child's appointment, we'll ask you questions about the specific symptoms your child is presenting, the severity of these symptoms and how long they've been ongoing. From there, our dermatology specialists can perform a detailed screening and assessment, creating a personalized treatment plan to suit your child's needs. Whether treatment is as simple as prescribing a cream/ointment or something more involved (like laser treatment), we'll walk you through every step and take the time to answer any questions you have about your child's care.
Why Choose DAOPM for Your Child's Skin Care?
We understand that you have a choice when it comes to who you trust with your child's skin care. That's why we make it our philosophy to go above and beyond, providing a warm and professional environment in which to have your child's skin care needs fully addressed with each visit.
Whether you're bringing your child in for a routine screening or have concerns about new symptoms, our knowledgeable and friendly team is here to help. We take a great deal of pride in our educational approach to patient care, making sure that your child feels as comfortable as possible and that all of your questions/concerns are addressed to your satisfaction. Ultimately, we consider it our duty to provide every child with the most compassionate and quality skin care—and that is not a responsibility that we take lightly.
Schedule Your Child's Consultation Today
When it comes to your child's skin care, you don't want to trust just any dermatology team. Instead, you and your child will be best served when you turn to a pediatric-friendly dermatologist that truly understands childhood skin conditions and how to properly diagnose/treat them in a warm and inviting environment.
If your child is presenting symptoms of a skin condition, don't hesitate to get them the care they need. Schedule your consultation with our pediatric-friendly dermatologists by calling our office at (610) 947-4322.