Learn About Laser Skin Resurfacing with HALO™ Pro
Laser skin resurfacing technology has made incredible advancements over the past decade. If you once considered laser skin resurfacing treatments, but were wary about the results, it is time to discuss new, innovative options with your cosmetic team at Dermatology Associates of Plymouth Meeting.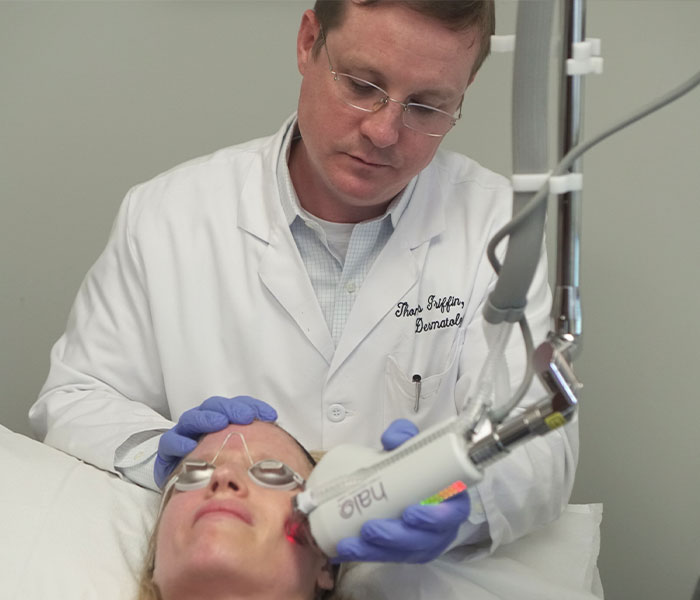 What Makes HALO™ Pro Different
HALO™ Pro is among the most innovative lasers on the market today and is the only hybrid fractional laser of its kind. It offers deep dermal rejuvenation without the long recovery associated with more aggressive lasers. Whether you have fine lines, wrinkles, brown spots or other skin issues, HALO™ Pro is extremely tunable to offer enhanced, customizable results.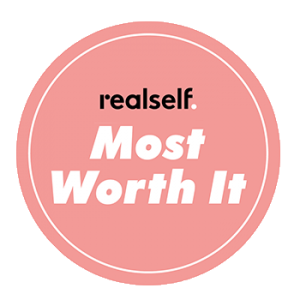 Impressive Results With a Hybrid Fractional Laser
The reason HALO™ Pro delivers such impressive results is because it is a hybrid fractional laser, meaning it combines both ablative and non-ablative wavelengths to deliver the best benefits of each type of laser while also minimizing downtime.
Combining Ablative and Non-Ablative Lasers
Before HALO™, lasers were either ablative—which are effective at improving skin texture and tone, but not ideal for anti-aging concerns—or non-ablative, which treats wrinkles and acne scarring well, but requires a series of treatments for best results. Halo™ Pro combines the benefits of each for a truly unique laser skin resurfacing treatment.
What to Expect From Laser Skin Resurfacing With HALO™ Pro
As the only hybrid fractional laser of its kind, HALO™ Pro combines tunable non-ablative and ablative wavelengths to the same microscopic treatment zone to maximize results and reduce downtime. These two wavelengths being contained in the same head mean HALO™ Pro treatments are more efficient than single-wavelength lasers. While older technologies like CO2 lasers, Fraxel and Clear and Brilliant™ would require extended healing time due to an extremely sensitive (sometimes painful) face, HALO™ Pro delivers predictable results and adjustable downtime.
Tunable Wavelengths = Customized Results
HALO™ Pro is a top choice among our cosmetic dermatologists for delivering remarkable results in as little as 1-2 treatments. All skin types are treatable with HALO™ Pro and it is often an ideal treatment for:
Wrinkles and fine lines
Sun damage
Melasma
Texture irregularities
Scar revision (including acne scars)
Signs of aging
Pigmented lesions
Enlarged pores
Dermatology Associates of Plymouth Meeting is home to dermatologists who are renowned skin resurfacing experts; as such, a top-of-the-line inventory of skin resurfacing technologies is used to provide patients with the lasting results they need. We are the first HALO™ owner in Plymouth Meeting and our experienced practitioners travel the country to educate other practices about HALO™.
Your cosmetic team may recommend HALO™ Pro treatments in addition to others like RF Microneedling, Discovery Pico, BroadBand Light (BBL™) Therapy, MicroLaserPeel® or other skin resurfacing treatments. A personalized combination of therapies based on your unique skin conditions and goals packs a powerful punch in reversing the skin issues you are facing.
As with any treatment, your safety is our top priority at Dermatology Associates of Plymouth Meeting. HALO™ Pro is FDA-approved and has an excellent safety profile, and our cosmetic dermatologists are extremely skilled and well trained on how to safely operate the laser in ways that require the least amount of downtime possible. When it comes to laser skin resurfacing treatments, the experience of your laser practitioner is paramount. Never receive a laser treatment from anyone other than a highly experienced board-certified dermatologist.
Schedule your appointment at Dermatology Associates of Plymouth Meeting to develop a personalized skin resurfacing plan that may include our revolutionary HALO™ Pro laser or other treatment combinations based on your individual needs. Our cosmetic team is eager to work with you to develop a plan to reverse troublesome skin issues and help you achieve the healthy skin you desire.
Where can HALO™ Pro be Used?
Additionally, HALO™ Pro can be used on almost any area, including the face, hands, and décolletage.
What to Expect During Your Treatment
HALO™ Pro treatments are faster and more comfortable for patients than traditional fractional skin resurfacing treatments. The handpiece includes integrated air cooling and smoke evacuation which helps to make the experience as pleasant as possible. Depending on the scope of your treatment, a topical anesthetic can be applied to make the experience more comfortable.
Tailoring Your Personalized Treatment Plan
What Happens After Treatment?
Patients generally heal quickly enough to be able to wear makeup within 24 hours of treatment, although this is not always the case. Your skin could range from being slightly pink to being extremely tender, depending on how your dermatologist uses the laser to achieve your intended outcome. A noticeable improvement is usually seen within a few weeks, with results continuing to improve over time as the skin's healing response continues to trigger the growth of new collagen.
How Much Does Halo™ Pro Hybrid Fractional Laser Treatment Cost?
Since HALO™ Pro is customizable and we specialize in personalized care, treatment costs can vary. Your treatment type and the number of treatments will be tailored to meet your goals and fit your lifestyle. We offer several financing options in order to help you fit your aesthetic needs into your budget including Care Credit. Learn more about payment options at Dermatology Associates of Plymouth Meeting.