Radiofrequency Microneedling for Minimally-Invasive Skin Renewal
Microneedling has recently been discovered as one of the most effective minimally-invasive treatment options for smoothing, tightening and perfecting the skin. As microneedling technology has evolved and progressed, radiofrequency microneedling has proven itself as being even more effective than traditional microneedling because it allows the radiofrequency (heat) energy to be delivered to deeper levels of the skin.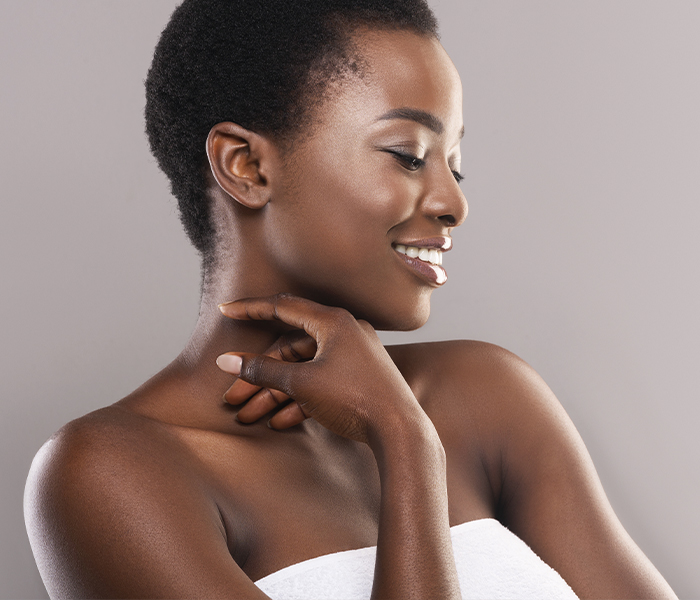 What is Radiofrequency Microneedling?
Radiofrequency microneedling combines the power of microneedling and radiofrequency energy to stimulate the body's production of collagen. It works by using ultrafine needles to penetrate the skin, which triggers a wound-healing response from the body. The radiofrequency energy included in certain microneedling treatments allows this signal to be detected by even deeper layers of the skin. The body's natural reaction to these stimuli is to produce collagen that will repair these micro injuries to the skin and result in a smoother, more refreshed appearance.
What Does Radiofrequency Energy Add to Microneedling?
Adding radiofrequency energy to microneedling maximizes the results of treatments. The radiofrequency energy heats the dermis to a therapeutic level that stimulates collagen growth while the micro-channels created by the ultrafine needles of the microneedling handpiece causes a release of growth factors. This packs a powerful punch in treating imperfections in the skin with an increase in your body's natural production of collagen.
What to Expect During Radiofrequency Microneedling Treatments
A topical anesthetic will be applied to your treatment area first to maximize your comfort during the treatment. After your topical anesthetic takes effect, the treatment typically takes between thirty minutes to an hour to perform, depending on the size of your treatment area. Depending on your goals, your cosmetic team at Dermatology Associates of Plymouth Meeting may recommend a series of treatments or a combination of radiofrequency microneedling treatments with other skin-perfecting treatments such as CoolPeel, BBL™ or chemical peels.
No downtime is required after receiving a radiofrequency microneedling treatment. After treatment, you can resume your daily activities—you can even apply sunscreen and makeup immediately. You will only be asked to avoid strenuous activities during the first 48-72 hours after treatment and avoid long showers or baths, which could trigger the face's natural response to flush. This is an attempt to keep skin vessels closed and improve the efficacy of the treatment.
How to Prepare for Radiofrequency Microneedling Treatments
Preparation for radiofrequency microneedling treatments is not required, but there are some steps you can take ahead of your treatment to optimize your results. For example, avoiding alcohol and any non-steroidal anti-inflammatory medications prior to treatment can reduce risks of bruising from the treatment. You should also let your dermatologist know if you are taking any blood-thinning medications as these can increase bleeding or bruising resulting from the treatment.
VirtueRF Radiofrequency Microneedling
VirtueRF is the world's first radiofrequency microneedling platform and offers the ability to use multiple handpieces for various applications. This device offers extreme versatility and boasts advanced ergonomic, safety and treatment delivery features. VirtueRF treatments are paired with the most innovative sheet mask technology available—the Microcurrent Dual Face Mask system by Franz Skincare. This two mask system soothes and eliminates redness.
If you are ready to begin developing a more refreshed appearance, schedule an appointment today to learn more about radiofrequency microneedling. Whether you are looking to smooth fine lines and wrinkles, reduce the appearance of acne scars or texture irregularities, tighten and contour your facial appearance or simply improve the health of your skin, radiofrequency microneedling can help.