Microneedling and Psoriasis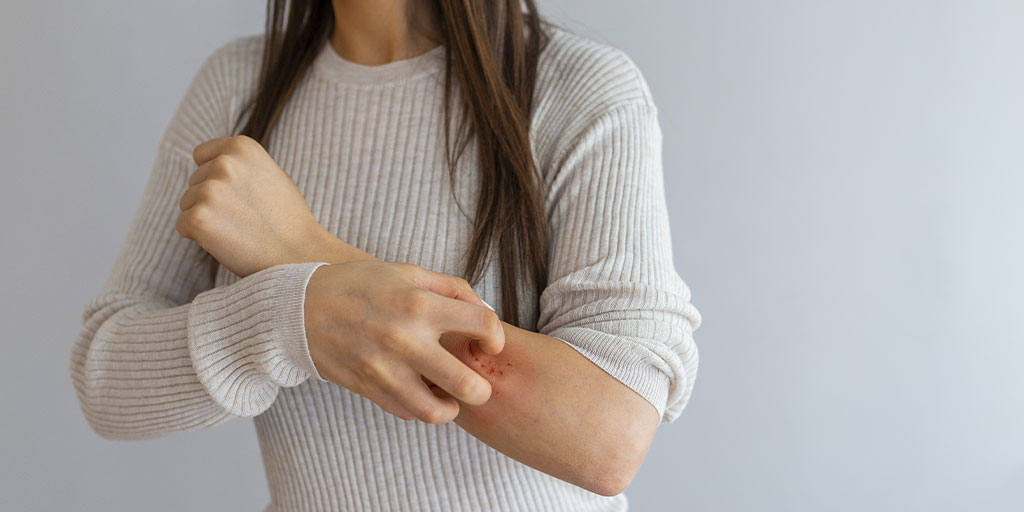 The board-certified dermatologists at Dermatology Associates of Plymouth Meeting share a keen interest in managing psoriasis. We specialize in treating psoriasis by understanding its many forms, learning what triggers it and teaching our patients how to prevent flareups. We believe our patients with psoriasis should take advantage of the many benefits of our skin-enhancing procedures like microneedling and laser skin resurfacing, but are these treatments safe for psoriasis? The answer is yes—as long as the treatments are controlled.
Safe Skin Treatments for Psoriasis Patients
People with psoriasis develop fine lines, wrinkles, sun spots, texture irregularities and other skin issues just like people who do not have psoriasis. Having psoriasis should not preclude a person from seeking treatments to improve the health and appearance of their skin. Conducting skin-enhancing procedures safely is key, and only a board-certified dermatologist experienced in treating psoriasis should perform treatments like microneedling or laser skin resurfacing on someone with this skin condition. When it comes to psoriasis, the mechanism of the skin-enhancing procedure matters. Some treatments like microneedling intentionally injure the skin, while other treatments like BroadBand Light™ (BBL) are non-injurious. With special consideration, both types of treatments can be performed on patients with psoriasis.
Is Microneedling Dangerous for Psoriasis Patients?
Microneedling can be beneficial for someone with psoriasis as long as the procedure is not done over any psoriatic patches of skin. At Dermatology Associates of Plymouth Meeting, we offer radiofrequency microneedling which combines the power of microneedling and radiofrequency energy to stimulate the body's natural production of collagen. This treatment triggers a wound-healing response from the body by using ultrafine needles to penetrate the skin. The radiofrequency energy included in the treatment enables this signal to be detected by deeper layers of the skin. Microneedling can smooth fine lines and wrinkles, reduce the appearance of acne scars or texture irregularities, tighten and contour the face and improve the general health of the skin.
Schedule a consultation to achieve the healthiest skin of your life
Contact Us
To emphasize, the safest way for microneedling to be performed on someone with psoriasis is to avoid any psoriatic patches. Keep in mind that having psoriasis does involve greater risks from microneedling, such as the Koebner phenomenon. This phenomenon causes skin lesions to develop after the skin has been injured in people with psoriasis. Another risk to consider is that microneedling may actually induce psoriasis at microneedling sites. However, your dermatologist may perform a test in a small area to assess if the procedure is safe for you. We offer several other non-injurious treatment options that may help you achieve your desired skin results.
Non-Injurious Skin Treatments Safe for Psoriasis
Skin-enhancing treatments that do not injure the skin are ideal for patients with psoriasis. These allow the delicate, topmost layer of skin to remain intact while deeper layers of skin are triggered to grow new, healthier skin cells. A non-injurious treatment that may benefit psoriasis patients looking to achieve healthier, smoother skin is BBL™: This virtually painless treatment uses short bursts of high-intensity light to produce even skin color, younger, smoother and healthier looking skin. It works by gently heating the uppermost layers of skin to stimulate skin cell turnover and regenerate the growth of new collagen.
Enhancing Your Skin as Safely as Possible
As experts in psoriasis, we know how frustrating flareups can be. When we develop a personalized plan to improve other skin issues you may be experiencing, we will keep your safety top-of-mind as we carefully navigate any existing psoriatic patches. If you are interested in learning more about skin treatments that are safe for psoriasis, call us today at 610.828.0400 to schedule your appointment with our medical dermatology team.