TempSure for Smoother, Healthier Skin
TempSure technology by CynoSure gives Dermatology Associates of Plymouth Meeting an advantage in helping our patients achieve smoother, healthier skin. We use the TempSure Firm and TempSure Envi to offer radiofrequency skin tightening procedures on the face, neck, abdomen, arms and legs. These technologies are capable of reducing wrinkles, smoothing cellulite and tightening the skin for a more youthful appearance.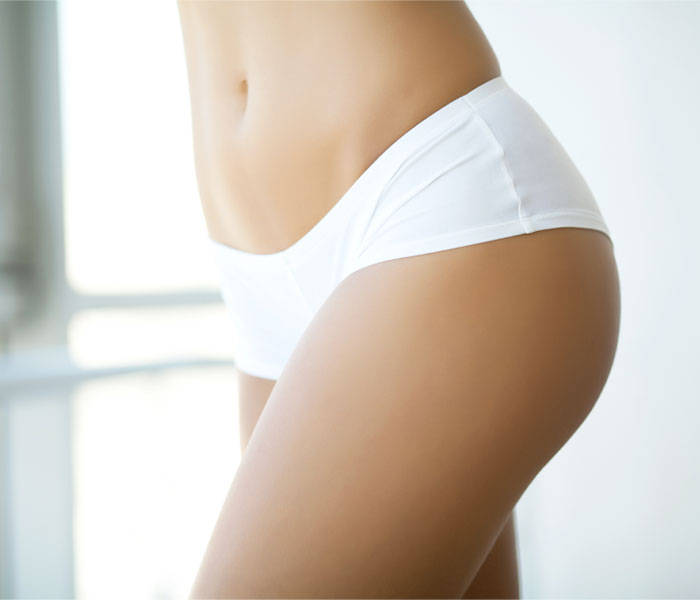 Tighter, Brighter Skin with TempSure Envi
TempSure Envi technology heats deep into the skin to regenerate collagen and reduce the appearance of forehead wrinkles, frown lines, crow's feet and smile lines. It uses a best-in-class temperature sensing feature to allow for safe, consistent and reliable radiofrequency skin tightening treatments. These treatments are a gentle way to revive the skin's natural beauty and reduce the appearance of facial wrinkles and fine lines.
Noninvasive Cellulite Treatment with TempSure Firm
Cellulite is among the most frustrating, difficult-to-treat skin issues in history. For years, invasive surgical procedures have been the standard for smoothing out cellulite—until now. TempSure Firm is an innovative, noninvasive treatment that helps to temporarily reduce the appearance of cellulite in a short series of easy treatments. No surgery, needles or anesthesia required! TempSure Firm uses continuous, noninvasive monopolar radiofrequency energy along with a specialized massage head to heat tissues to a therapeutic temperature. When these deep tissues are safely and painlessly heated to a certain temperature, the body's natural response to produce new collagen is triggered. Since these new collagen fibers are denser and tighter than old ones, the result is tighter, smoother and younger-looking skin. TempSure Firm can be used in areas including the abdomen, arms, buttocks and thighs.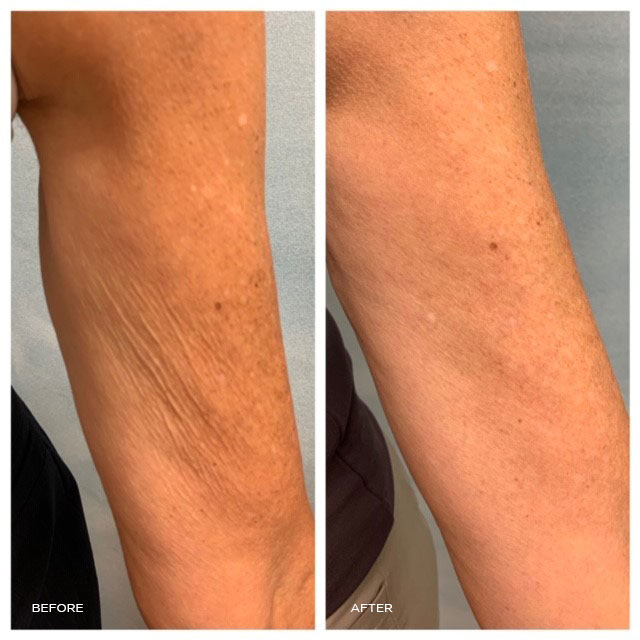 What to Expect from TempSure Treatments
TempSure Envi treatments begin with a gel being applied to the skin. Next, radiofrequency energy is delivered through the handpiece as it is massaged over the skin in small, circular motions. This energy heats the skin to a therapeutic level that is modulated by the TempSure system to maintain a safe temperature. As the skin temperature increases during the procedure, collagen is stimulated. Once the procedure is complete, skin temperature drops back to normal. Most patients describe TempSure Envi treatments as being very comfortable—even relaxing—as the warming sensation can feel similar to a hot stone massage.
TempSure Firm treatments deliver heat in a gradual manner, so the handpiece does not cause any pain. These treatments for anyone desiring smoother, firmer skin in areas that are commonly affected by cellulite including the buttocks, abdomen, thighs and arms are quick and easy, oftentimes lasting for ten minutes or less. In fact, our patients describe the treatment as "spa-like" due to the deep warming sensation delivered by the handpiece—you could even fall asleep! The abdomen can typically be treated in five minutes and both thighs usually take ten minutes to treat.
If your treatment areas will be exposed to the sun immediately after treatment, make sure to wear a high quality sunscreen as your skin will be temporarily more sensitive to sunlight. Expect results from TempSure Firm or Envi treatments to be seen a few weeks to a month after your last treatment, although skin may temporarily appear to be slightly plump in the few days following treatment. TempSure Envi and TempSure Firm are safe for all skin types and require no downtime. In fact, patients are able to drive themselves home or return to normal activities immediately after treatments.
Combining TempSure Technologies with Other Treatments
At Dermatology Associates of Plymouth Meeting, we do not ascribe to a one-size-fits-all approach to skin improvement. Everyone has different goals and will respond to treatments differently than others. Depending on your unique situation, we may suggest combining your series of TempSure treatments with other treatments that will help to enhance your results. This is an excellent way to achieve more dramatic results in a shorter amount of time.
For example, patients who are struggling to lose bothersome pockets of fat that seem resistant to diet and exercise may want to combine a series of CoolSculpting® treatments with TempSure Firm treatments. CoolSculpting® works through a noninvasive process called cryolipolysis to freeze fat cells away permanently. Since these treatments can, in some cases, leave some laxity in the skin, TempSure treatments can help to firm the skin up after removing fat.
Patients looking to reverse signs of facial aging by reducing fine lines, reversing sun damage, shrinking pores and improving skin texture might consider combining CoolPeel with TempSure Envi treatments. Another option geared more toward addressing facial volume loss are dermal filler injectables, which are an excellent adjunct to treatments like TempSure Envi because they provide results that are immediate yet continue to improve over time. Patients looking to refine the skin around the jawline and neck can expect great results from combining RF microneedling treatments with TempSure treatments. No matter what your unique skin and appearance goals are, your cosmetic team at Dermatology Associates of Plymouth Meeting can assemble a personalized plan based on your unique skin type, lifestyle and desired outcomes.
Rather than continuing to struggle with aging skin, schedule your appointment at Dermatology Associates of Plymouth Meeting to find out how we can help you achieve smoother, tighter and younger-looking skin. It is never too late to invest in the health and appearance of your skin.