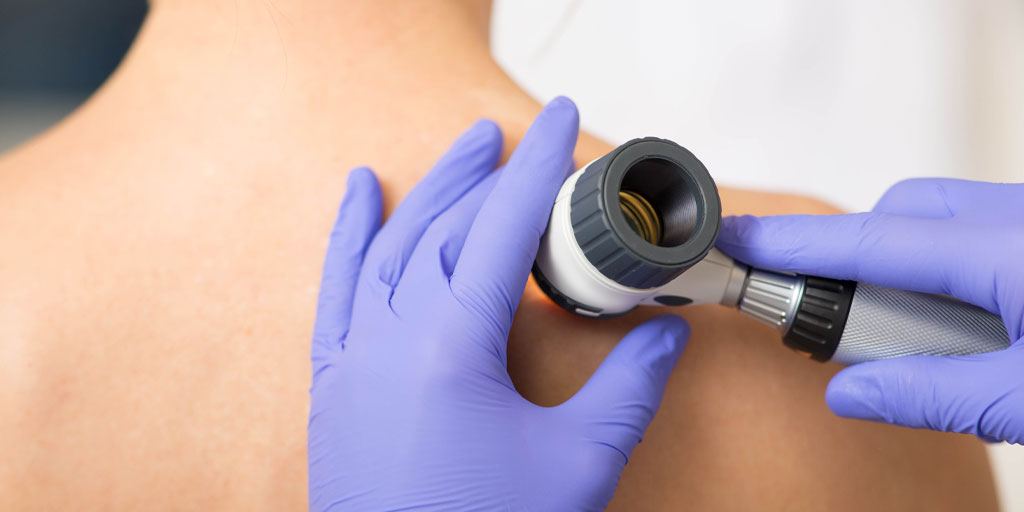 Maintaining optimal health for the whole body typically includes regular physical examinations with a primary care practitioner. These exams check for whole body health, early signs of illness and other important factors. When it comes to maintaining optimal skin health, a full body skin examination is just as important.
Routine Skin Cancer Exams
At Dermatology Associates of Plymouth Meeting, our board-certified dermatologists and licensed physician assistants routinely perform annual skin cancer exams to help our patients maintain optimum health. Skin cancer is the most common type of cancer and these annual checks can help clear up confusion or concerns about new spots that appear on the skin. We may also identify spots to watch closely. These annual examinations provide an opportunity to discuss skin cancer prevention strategies with your dermatologist and learn about the best sunscreens for your skin type.
How Your Dermatologist Can Help
At your annual skin exam, your provider will be searching for and examining dysplastic nevi, commonly referred to as atypical moles. Atypical moles are very common, with about one in ten Americans having them, and they can include moles with an irregular outline or moles that are larger than a pencil eraser. While these moles are oftentimes benign—meaning they are noncancerous—your dermatologist will want to keep an eye on these spots and may choose to perform an excisional biopsy to test the spot and to rule out any form of skin cancer. An excisional biopsy is a procedure that involves removing the mole from the skin and testing it to confirm that it is benign.
Monitoring Atypical Moles
In the dermatological community, there is an ongoing discussion regarding the best follow-up care for atypical moles in order to maintain optimum skin health.
In a recent article for a medical journal, our own Dr. Wolfe noted the importance of weighing the risk and benefits of excisions and re-excisions as they pertain to particular patients. Initial mole removal is often followed by a second procedure to remove any residual pigment cells left behind depending on the degree of atypia found by the pathologist. However, not all atypical moles need to be re-excised. In some cases, it is beneficial to continue monitoring atypical moles rather than to re-cut the area. This is especially true when a mole exists in a sensitive area where scarring or discomfort is a concern. Further, direct interaction with the pathologist is vital to these decisions. In a recent study, nearly 500 atypical mole sites were analyzed, and after an initial excision and discussion with the dermatopathologist, there were no subsequent melanomas upon re-excision of the area. Certainly there are some instances when re-excision is required for the long-term well-being of the patient, but it is vital that each situation be evaluated independently for the need of a secondary re-excision procedure.
When patients regularly perform self-checks—meaning they keep an eye on atypical moles and look out for any changes in mole size and shape—and continue to come in for routine skin cancer screenings, monitoring atypical moles can be the best option.
Remembering ABCDE Warning Signs
In addition to regular skin cancer checks at your dermatologist's office, patients can monitor their own skin health at home by keeping an eye out for the "ABCDE" warning signs of skin cancer. This easy to remember guide can help you spot atypical moles and melanoma early on, which helps improve treatment outcomes.
A is for Asymmetry
Asymmetry refers to the shape of a mole. Instead of being a regular circle or oval shape, melanomas tend to be asymmetrical, meaning if they are divided in half, those two halves do not match.
B is for Border
Melanomas may have uneven or wavy edges rather than a smooth and even border.
C is for Color
Multiple colors in a mole are considered a warning sign. Benign moles tend to be one consistent color, but a melanoma will appear to be multiple shades of brown or may have other colors such as red or white appear.
D is for Diameter and Dark
Regular skin cancer checks can help identify melanoma when it is smaller, but size can also be a warning sign. When a lesion is larger than a typical pencil eraser, it may be a melanoma. Melanomas also tend to be darker in color than typical moles.
E is for Evolving
Another indicator of a melanoma is changing size, shape or color. This can also include bleeding, itching or crusting.
Schedule a consultation to achieve the healthiest skin of your life
Contact Us
Choosing the Right Dermatologist
While it is important to keep in mind these ABCDE tips, it is also important to have a dermatologist whom you trust and can contact when you have an atypical mole in question. One of the best tips regarding skin cancer is, "when in doubt, check it out," meaning that if you think you have spotted a warning sign, contact your dermatologist or licensed physician assistant so that their expert eye and equipment can perform a proper analysis.
When selecting a physician, it is important to find a board-certified dermatologist who understands the latest research in skin health and skin cancer. These lesions can be hard to properly identify. Working with an experienced dermatologist provides support to your overall health, as these physicians understand the subtleties of atypical moles, best practices for skin care and monitoring and can answer your questions about this complex health condition.
Schedule a skin examination today at Dermatology Associates of Plymouth Meeting for peace of mind about your atypical moles. If in doubt, have it checked out!