Why is the Sciton Halo™ Pro Laser the best option for fractional skin resurfacing?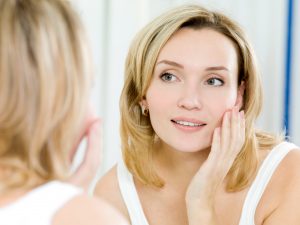 Sciton Halo is a new and innovative laser skin treatment option that utilizes both an ablative laser and non-ablative laser treatment to deliver optimal results. An ablative laser removes the outer, damaged layer of skin and forces it to heal and grow new skin. Unfortunately, this method has a longer downtime required to fully recover. A non-ablative laser spares the outer skin and focuses its energy in the deeper dermis to stimulate collagen production. The downside here is that, while the downtime is minimal, multiple sessions are required to get the full effect. The Sciton Halo treatment takes a hybrid approach by using the best features of both lasers and providing stunning results. The hybrid fractional laser concentrates its energy on a deep layer of collagen in the skin to leave your skin intact. This allows for a quicker healing time and delivers the results of an ablative laser but without the lengthy downtime. What can patients expect from the Sciton Halo laser treatment? First of all, they can be assured that they are getting one of the best skin care options available in laser skin therapy. Second, they can expect a fairly simple process that produces exceptional results. The entire process takes approximately 1 to 2 hours. First, the numbing cream is applied to your skin and it takes around an hour to take effect.
Schedule a consultation to achieve the healthiest skin of your life
Contact Us
Afterwards, the treatment begins and the laser is used on the skin. After your laser treatment, ice packs are applied to cool the skin and a post-laser balm with sunscreen is applied. Your face will be red and will feel hot similar to a sunburn. This discomfort typically resolves overnight. The recovery period lasts about 5-7 days and, though the best results are seen at 2-3 months, initial results are noticeable within those five days. Initially you will notice redness and swelling following the procedure. You will be given a cream to apply to the face and are encouraged to use a cold compress to help calm your skin and reduce swelling. Your skin will then undergo a "peeling process": that is a sign of healing and lasts about 5-7 days. After all healing has taken place, the results will be apparent and your skin will glow with a youthful, freshened appearance. Old scars from acne or sun damage will be significantly reduced, and your skin tone will be balanced and beautiful. This treatment is revolutionizing skin care and is truly the best option for those considering laser skin treatment. To learn more about the Sciton Halo Pro Laser, or to schedule your consultation at Dermatology Associates of Plymouth Meeting, serving the Philadelphia metro area, including Gladwyne, Bryn Mawr, Ardmore, and East Norriton, please fill out the form on this page or call 610.828.0400.