You're Ready for Summer – But Is Your Skin?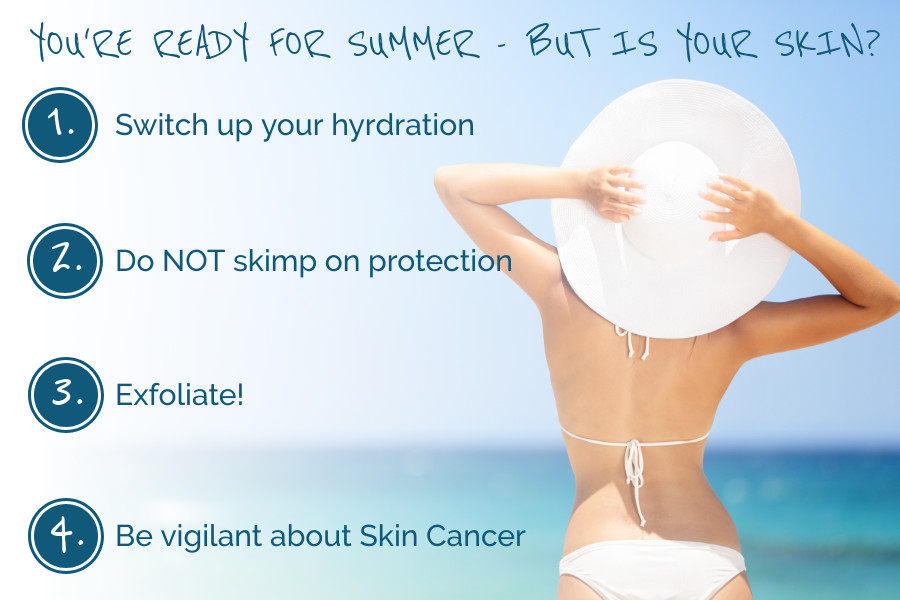 You're totally ready for the summer season; after all, this past winter has felt like it's lasted forever! But before you don that bikini or book that trip to the Shore, consider this: Is your skin as ready for the summer as you are? Skin tends to become dull and dry during the winter (blame the heating systems and biting winds). By the time the summer season rolls around, you may be disappointed to discover that your June complexion still looks similar to how it was back in January. But there are certain steps you can take to get your skin ready for summer, like:
Switch up your hydration:

During the winter, you probably favored really heavy moisturizers. But as the weather gets warmer, switch to something lighter, so you don't clog pores. There are plenty of lightweight but still hydrating formulas out there – find one that works for your skin type and tone.
Do NOT skimp on protection:

Take stock of your skincare products right now – how many of them have SPF protection?

Your skin is vulnerable

to UVA/UVB rays during the summer, especially in the beginning of the season when you might not be used to the sun's strength. From your foundation to your moisturizer and body cream, sneak in SPF protection as much as possible.

Exfoliate:

The spring months are ideal for exfoliation to prepare your skin for its most radiant self. Schedule a microdermabrasion session to help shed those dead skin layers that accumulated during the winter months. If you're looking for even more help, a chemical peel can do the trick – just make sure you give your skin 4 to 6 weeks to recover!

Be vigilant about skin cancer:

Summer can be relaxing and fun, but that doesn't mean you should skimp on checking your skin for moles, freckles, and unusual marks. If you notice anything that just doesn't look right,

schedule an appointment

with a dermatologist right away.
Schedule a consultation to achieve the healthiest skin of your life
Contact Us
Ready to get your skin ready for the summer season? Schedule your consultation at Plymouth Meeting Dermatology, serving the Philadelphia metro area. 610.828.0400