How Can I Reduce the Appearance of Scars?
<![CDATA[[fusion_builder_container hundred_percent="no" equal_height_columns="no" hide_on_mobile="small-visibility,medium-visibility,large-visibility" background_position="center center" background_repeat="no-repeat" fade="no" background_parallax="none" parallax_speed="0.3" video_aspect_ratio="16:9" video_loop="yes" video_mute="yes" overlay_opacity="0.5" border_style="solid"][fusion_builder_row][fusion_builder_column type="1_1" layout="1_1" background_position="left top" background_color="" border_size="" border_color="" border_style="solid" border_position="all" spacing="yes" background_image="" background_repeat="no-repeat" padding="" margin_top="0px" margin_bottom="0px" class="" id="" animation_type="" animation_speed="0.3" animation_direction="left" hide_on_mobile="small-visibility,medium-visibility,large-visibility" center_content="no" last="no" min_height="" hover_type="none" link=""][fusion_text]
Scars can be an uncomfortable part of your life. Thanks to modern medicine, however, you don't necessarily have to live with them. Whether you've got facial scars from acne, sun exposure, or other skin damage, there are several treatment options available. Say goodbye to scars and hello to a younger, more radiant, skin tone and texture.
Many patients are opting to combine treatments when it comes to reducing the appearance of facial scars. One of the best combinations we've found is the BBL™ Broadband Light and Halo™ Pro. BBL™ is light and Halo™ Pro is a laser. Each work in a synergistic way to provide optimal results for fine lines and deep scars.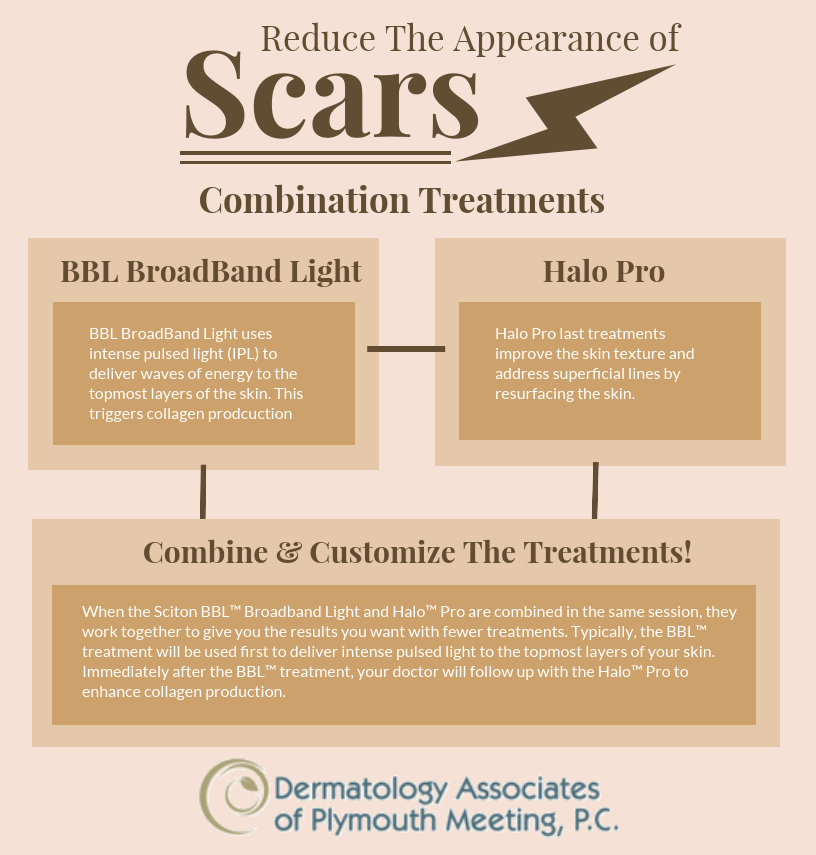 BBL™ Broadband Light

treatments use the world's most powerful intense pulsed light (IPL) to deliver waves of energy to the topmost layers of the skin. The skin then absorbs the heat and triggers collagen production.

Halo™ Pro

laser treatments improve skin texture and address superficial lines by resurfacing the skin. With the unique combination of non-ablative and ablative wavelengths, Halo™ Pro provides maximum results for issues like scarring.
When the Sciton BBL™ Broadband Light and Halo™ Pro are combined in the same session, they work together to give you the results you want with fewer treatments. Typically, the BBL™ treatment will be used first to deliver intense pulsed light to the topmost layers of your skin. Immediately after the BBL™ treatment, your doctor will follow up with the Halo™ Pro to enhance collagen production.
What's great about both procedures is that they're each highly customizable. When combined, BBL™ treatments and Halo™ Pro treatments are able to address a number of different skin issues. People with skin care concerns such as scarring can benefit from the two procedures done in conjunction for a synergistic effect.
Halo™Pro treatments are best done two months apart from each other. It's typically recommended to wait 3-6 weeks in between BBL™ Broadband Light sessions. During your in-person consult, your skin care specialist will help determine the number of treatments that are right for you.
To learn more about treating scars with Sciton BBL™ Broadband Light and Halo™ Pro Laser or to schedule your consultation at Dermatology Associates of Plymouth Meeting, serving the Philadelphia metro area, including The Main Line, Chestnut Hill, Blue Bell, Gwynedd, and Flourtown, please fill out the form on this page or call 610.828.0400.