What to Expect from Your HALO™ Laser Results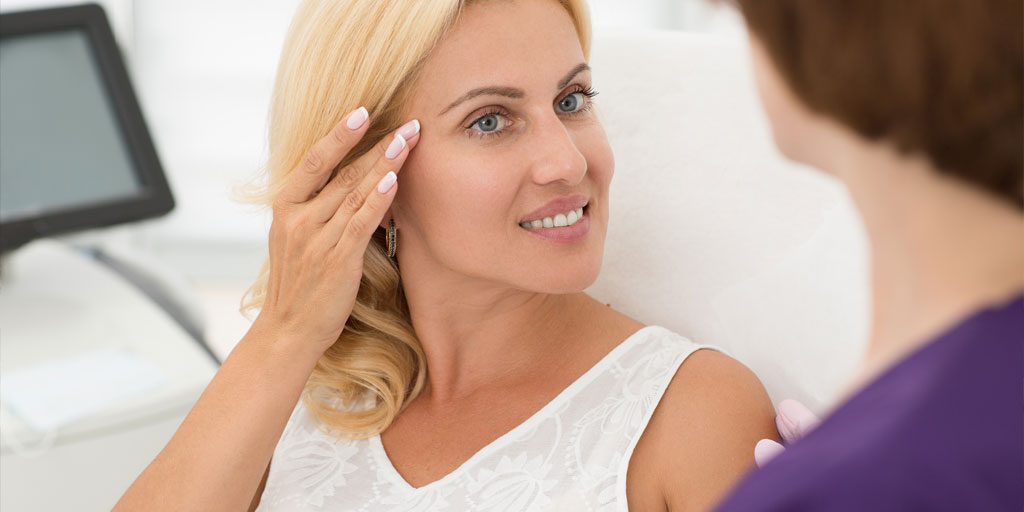 HALO™ is an extremely innovative hybrid fractional laser that proves just how far laser skin resurfacing technology has come over the past decade. If you once considered laser skin resurfacing treatments but were wary about the results, it is time to discover the HALO™ laser. It is the only hybrid fractional laser of its kind that offers deep dermal rejuvenation without the long recovery associated with more aggressive lasers. Whether you have fine lines, wrinkles, brown spots or other skin issues, HALO™ is extremely tunable to offer enhanced, customizable results.
Dermatology Associates of Plymouth Meeting's own Dr. Thomas Griffin was the first provider in the tri-state area to offer HALO™ laser treatments and has personally performed more than 500 treatments. As a HALO™ laser expert, he serves as a key opinion leader and educator on the technology for its creator, Sciton. As a result of his experience and leadership in teaching other providers how to safely conduct HALO™ laser treatments, patients of Dermatology Associates of Plymouth Meeting can rest assured their results will be impressive.
Results are perhaps the most important part of any laser skin resurfacing treatment. With HALO™ treatments, you can remain in relative control of your results based on the laser's highly tunable settings. If you desire more dramatic results, your dermatologist will tune the laser to reach a deeper level of skin. The more aggressively the laser is used, the more downtime you can expect—but you will also enjoy the reward of more dramatically renewed skin after healing. For patients who are unable to experience downtime, the laser can be used for a lighter treatment that still leads to noticeable results.
Immediately After Your HALO™ Laser Treatment
Immediately following your HALO™ laser treatment, you will feel the sensation of heat in your face and your face will be red. Ice compresses will be applied to ease this feeling and this sensation typically lasts for three to four hours. For more aggressive HALO™ treatments, there will be swelling over the next two days. This swelling is variable depending on the treatment area and depth of the treatment, typically most noticeable below the eyes. Around the third day following your treatment, the skin will peel in dots called "coffee grounds." These typically flake off by the sixth day revealing fresh, new skin beneath. Because HALO™ laser treatments stimulate collagen growth, the regenerative phase of healing can continue for several months.
How to Achieve Ideal Results from HALO™ Laser Treatments
Combining a series of HALO™ treatments with other skin treatments is the fastest way to achieve your desired results. For example, your cosmetic team may recommend adding BroadBand Light (BBL™) Therapy, MicroLaserPeel®, Denave, Subnovii plasma pen, PRP or other skin treatments to your treatment plan. A personalized combination of therapies based on your unique skin conditions and goals packs a powerful punch in reversing the skin issues that you are facing.
Another way to improve your results from HALO™ or other skin resurfacing treatments is by applying ALASTIN Regenerating Skin Nectar with Trihex Technology to the treated area for several days before and after treatment. This product enhances procedure outcomes by supporting the skin's natural ability to clear out damaged elastin and collagen and grow new, healthy elastin and collagen. It also calms post-procedure skin, helps reduce downtime and preserves procedure results. 
Schedule a consultation to achieve the healthiest skin of your life
Contact Us
It is also imperative to diligently wear a physical sunblock to protect your skin and preserve your results. HALO™ treatments are faster and more comfortable for patients than traditional fractional skin resurfacing treatments, making them ideal for use in between other types of treatments.
How Long Will HALO™ Laser Results Last?
The results you achieve through a series of HALO™ laser treatments will last for years to come if you use appropriate skin care strategies and avoid sun damage. Wearing UVA/UVB sunblock is imperative to protecting your new, healthy skin from harmful sun rays. Patients who have achieved their ideal results from HALO™ treatments should also consider wearing hats or other protective clothing items to prevent sun damage.
Another way to maintain your HALO™ laser results is to periodically schedule lighter skin resurfacing treatments, such as Vivace® Radiofrequency Microneedling treatments, HydraFacial MD® treatments or chemical peels. These types of treatments will renew your skin's glow, remove dead skin cells, treat any new areas of sun damage, shrink pore size and polish the skin. Treatments like these can be scheduled monthly to maintain your HALO™ laser results.
Schedule an appointment at Dermatology Associates of Plymouth Meeting to learn more about HALO™ laser treatments and what to expect from them in terms of results. At your appointment, your cosmetic team will develop a personalized treatment plan to help you achieve your skin goals. This plan will outline how many HALO™ treatments we estimate you will need to reveal healthier, smoother, younger looking skin.